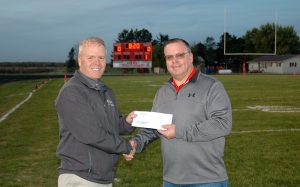 A donation by Mid-Ohio Energy Cooperative covered the cost of powering Elgin's home football games for the entire 2017 season.
During the game with Upper Scioto Valley early in the season, Mid-Ohio Energy President & CEO John Metcalf presented Elgin high school principal Chad Cunningham (pictured) with a check for $1,000. The intent of the check is to cover the approximate lighting and energy cost of the site for the full home football season. Mid-Ohio Energy serves the electric needs of the entire Elgin Schools campus.
The check presentation was part of the school's "Mid-Ohio Energy Night", honoring the electric cooperative for their partnership with the school on several projects. These projects include assistance with installation of the public address system and field lights used to light the game. Additional projects include lighting upgrades at the former high school building site and support with computer networking systems used by the school.
The cooperative also was instrumental in helping Elgin incorporate energy efficiency at the school's new K-12 campus. An independent energy audit found the facilities to rank among the most energy-efficient schools in the United States.
Each of these projects was completed at no cost to the school. Mid-Ohio Energy also supports academics with programs like classroom demonstrations, youth scholarships, and the Youth Tour to Washington D.C..
As part of the celebration, all fans in attendance were given concession stand vouchers. For each voucher redeemed, a contribution was made to support the Elgin Athletic Boosters, resulting in Mid-Ohio Energy donating an additional $2,900 to the program.
Mid-Ohio Energy is a not-for-profit electric cooperative dedicated to the safe, affordable, and reliable delivery of electricity. The co-op serves more than 8,100 meters in parts of 10 north central-Ohio counties with offices in Kenton and Marion.