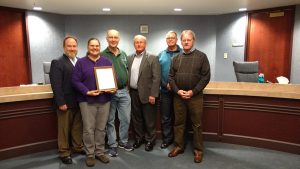 Marion Public Health and the Board of Health recognized the Marion County Park District as the 2017 Community Public Health Champion during the Marion County Commissioners meeting on January 18, 2018.
The Marion County Park District was selected because of their dedication to creating an environment that promotes an opportunity for all Marion County residents to engage in physical activity, their central role in the creation of 12.44 miles of a multi-use trail, development of programming for children to be active and learn about the outdoor environment, utilization of native plant landscaping, and continuing to be an active partner in improving the health of Marion County residents.
The Community Public Health Champion recognition was developed in 2016 as a way to recognize significant contributions that community partners make to the health of Marion County residents.