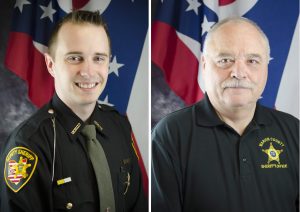 The Marion County Sheriff's Office recently announced their 2017 Deputy and Civilian of the Year awardees.
Sheriff Tim Bailey announced the 2017 selection for Deputy of the Year is Deputy Arick Miller, who has been with the sheriff's office since December of 2012.
Deputy Miller began his career with The Marion County Sheriff's Office on December 17th, 2012 as an Animal Control Officer at the Marion County Dog Pound. Deputy Miller was promoted to Deputy Sheriff in January of 2015 and has served in several different capacities and is currently assigned to the detective division of the sheriff's office.
"Deputy Miller is always eager to assist his fellow deputies, take on new tasks, and he never shies away from a case," stated Sheriff Bailey.
Miller is a graduate of Marion Catholic High School and completed the Ohio Peace Officers Training Academy at Marion Technical College in June of 2010. He and his family reside in Marion.
Sheriff Bailey announced the 2017 selection for Civilian Employee of the Year is Larry Yoder.
Larry has been with the Marion County Sheriff's Office Auxiliary since 1988. He started part time employment with the office in March of 2009 and moved on to full time employment in April of 2010. Larry wears many "hats" within the Sheriff's Office. Larry is currently responsible for Sex Offender Registrations and Evidence.
"Larry is always willing to help his fellow colleagues and can always be counted on to lend a hand. Larry is the "go to" guy for a majority of tasks within the office, some of which don't fall in his job description," stated Sheriff Bailey, who added that you can also find Larry putting in hours on the weekends, and also being available by telephone at all hours.