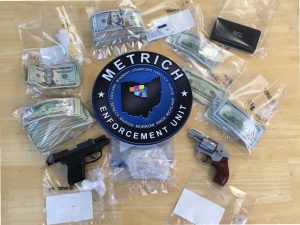 The MARMET / METRICH Drug Task Force arrested two men on Monday following a search warrant. At the time of their arrest, both men were out of jail on bond for previous felony charges.
On January 8, 2018 at just after 7:00am, MARMET, with the assistance of the Marion Police Department's Special Response Team (SRT) and Marion County Sheriff's Office, executed a search warrant at 619 Wilson Avenue in Marion. Officials said the warrant was issued after a several week investigation into Andre Mincey allegedly supplying Heroin and/or Fentanyl in the Marion area.
SRT members said they encountered four people inside the house, two of which were arrested for drug related charges. The two arrested, Andre Mincey, 36, and Tylor Gruber, 23, both of Marion, were out on bond for other felony charges.
During a search of the house, MARMET detectives said they located approximately 98 grams of Heroin/Fentanyl, pills, Suboxone, two handguns, one rifle, and $15,000 in cash.
Charges were sent to Marion County Prosecutor Ray Grogan's Office for the filing of formal charges.
Marion Police Department Chief Bill Collins stated that Mincey was recently added to the department's list of the 10 most dangerous criminals in the community. Marion County Sheriff Tim Bailey and Chief Bill Collins stated that the other eight will be actively pursued until the list has been exhausted and Marion is a safer place.
Approximately 3 weeks ago the MARMET Drug Task Force said they took another top 10 criminal off the street of Marion. Jerome Douglas was arrested and is being held on Felonious Assault and Weapons Under Disability charges.
Chief Collins stated that federal charges are being sought in both of these cases in hopes of, "getting them out of our community for a significant stint in prison."
MARMET Drug Task Force is made of members from the Marion Police Department, Marion County Sheriff's Office, Ohio State Highway Patrol, and the Marion County Prosecutors Office.