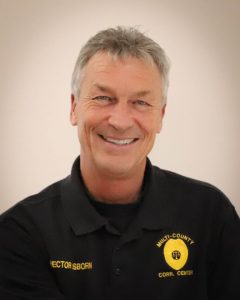 The Marion County Commissioners recently appointed Dale Osborn to serve as a board member to Marion County Board of Developmental Disabilities (MCBDD).
Osborn, who has been a Marion resident since the late 80's, was previously the director of Public Safety and Service for the City of Marion (1995-2005) and has been the executive director of the Multi-County Correctional Center since 2005. Osborn also served as the 6th Ward City Councilman from 2012-2015.
Osborn has been involved in local developmental disabilities advocacy for many years serving on the Marca Industries board in the past.
Dale and his wife, Char have three children, Chelsea (32) who lives in Houston, Texas, Cori (26), and Nathan (24) who both live in Marion. Dale and Char enjoy spending time with their family, especially their 11-month-old grandson, Ethan.
"The Marion County Board of DD is near and dear to me. Many fathers want to coach their kid's baseball teams and watch them play sports. Unfortunately, our son Nathan was born with Cerebral Palsy and is unable to play organized sports. One way I can help him is by donating my time to developmental disability organizations in Marion County," Osborn says of his recent appointment.
MCBDD Superintendent, Cheryl Plaster knows Osborn's insight will offer a great perspective to the board. "Osborn has been an advocate for those with developmental disabilities for many years. He is aware of the challenges we face and has great ideas to move us forward to gain community support."
Marion County Board of Developmental Disabilities is a governmental organization that provides advocacy and resources to "allow those we serve to live, learn, and earn in Marion County."
More than 800 Marion County children and adults are being served locally. Based on available resources, MCBDD may provide, or arrange for, service and support administration, early childhood services, educational services, supported living, residential services, family support services, job training, employment services, Special Olympics, and many others.
For more information about MCBDD, call 740-387-1035, visit www.marioncountydd.org, or join the conversation on social media (Facebook, Instagram, Twitter, and LinkedIn).