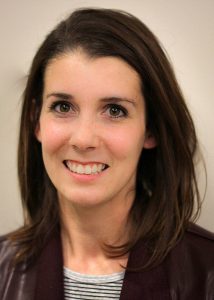 Marion County Board of Developmental Disabilities (MCBDD) announces the appointment of Karime Hord as their newest board member.
Hord, originally from Michigan, is a graduate of Central Michigan University. After graduation, she became employed at Nordstrom as a visual merchandiser for the Michigan, Pennsylvania, and Ohio region. There, she met her now husband, Ryan Hord, who was also working for Nordstrom's, but was originally from Marion, OH.
Ryan's family owns and operates, Storad Label Company in Marion and the couple decided to move home and learn the business as part of a succession plan for Ryan's father. Among Karime's duties at Storad, Hord is also an active member of the Marion community and serves on the Design and Review Board through Downtown Marion, Inc.
She and Ryan have two boys, four-year-old Jase and two-year-old Van. Hord was particularly excited about serving on the MCBDD Board of Directors because her son, Jase, has been diagnosed with autism and being part of the County Board is a great way to advocate for him and those in our community like him.
"I've always been aware of developmental disabilities because I grew up with an aunt who needed DD services. She was one of five children and went on to hold a job, live on her own, and enjoy her community. I want that same kind of inclusion for Jase," Hord said.
MCBDD Superintendent, Cheryl Plaster is excited to have Hord's expertise on the board. "Hord brings talent, experience and energy to the table. We are very fortunate to have her by our side as we continue to create community awareness, and provide opportunities for those we serve to live, learn, and earn here in Marion County."
Marion County Board of Developmental Disabilities is a governmental organization that provides advocacy and resources to allow those we serve to live, learn, and earn in Marion County.
In 1967, 88 County Boards of Developmental Disabilities were established by the Ohio state legislature to provide supports and services to individuals with intellectual and other developmental disabilities. This change in philosophy and public policy provided alternatives to state run institutions and afforded individuals the opportunity to live, work, and participate in their local community.
Today, more than 800 Marion County children and adults are being served locally. Based on available resources, MCBDD may provide, or arrange for, service and support administration, early childhood services, educational services, supported living, residential services, family support services, job training, employment services, Special Olympics, and many others.
For more information about MCBDD, call 740-387-1035, visit www.marioncountydd.org, or join the conversation on any of our social media platforms (Facebook, Instagram, Twitter, and LinkedIn).