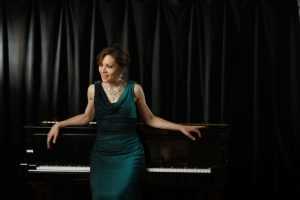 Ohio State Marion's Five Nights on Campus performing arts and entertainment series welcomes back classical pianist Alina Kiryayeva to Morrill Hall Auditorium, Thursday, March 8th at 7:30 p.m. in a new show entitled, "Sonatas".
Her last Five Nights performance earned her a standing ovation. Praised for her powerful command of the instrument, unique interpretations and clarity of sound, her new program features three sonatas and a rhapsody composed by Ludwig van Beethoven, Frédéric Chopin, Franz Liszt, and Sergei Prokofiev.
Professional concert pianist and chamber musician Alina Kiryayeva is globally renowned for her potent command of the instrument, her unique interpretations and innovative programming. Just as much, she has been praised for enchanting audiences with philosophical insight and charismatic stage presence.
Kiryayeva has performed in more than a dozen countries, including her native Ukraine, the U.S., Russia, Mexico, France, Germany, Austria, Italy, Holland and Japan. Venues & collaborations include the Kharkov State Philharmonic & State Opera Theatre Orchestras, The Imperial Valley Symphony Orchestra, the New York Symphonic Ensemble Orchestra, Carnegie Hall, the Morse Recital Hall, the Concerto Takes Manhattan Series at Yamaha Hall, the Smithsonian Museum and Library of Congress (Washington, D.C.). She has also toured with the clarinetists Charles Neidich and Maksim Shtrykov, and counter-tenor Terry Barber.
In 2013, Kiryayeva released her solo piano album "Sonatas," which she recorded at New York City's Klavierhaus, helmed by Grammy-nominated sound engineer Patrick Lo Re. It was featured on 150th broadcast of "Women in Music" on CKWR Radio in Ontario, Canada.
Kiryayeva gave her first solo recital at age 8 and her solo debut with orchestra at 11. She is one of few classical pianists that completed both Bachelor and Master degrees at The Juilliard School of Music on full scholarship; and was also awarded the Fannie Gottlieb-Harkavi Scholarship and Susan Rose Piano Scholarship. Her awards include First Prize winner of Italy's Senigallia International Competition, and top prizes in the Grace Welsh International Competition and the California Young Artist International Competition. Kiryayeva has been honored by Ukrainian President Leonid Kravchuk, with the State Award for Achievements in Arts.
Individual Five Nights on Campus performances are priced at $10 general admission, $9 for seniors (60 and up), $4 for students (grades k-12, and college), and $8 for campus faculty and staff. Doors to Morrill Hall Auditorium open at 7 p.m. Tickets are general seating. For ticket or upcoming performance information contact Gary Iams at: (740) 725-6253 or e-mail: iams.18@osu.edu
The mission of Five Nights on Campus is to provide exceptional and diverse cultural and educational opportunities and to encourage the community to be a part of campus life.
As always, the series is made possible through the support of community minded businesses in our area. 2017-18 sponsors include: UniPrint, OhioHealth, Marion Industrial Center, Inc., Stifel, iHeart Media, Merrill Lynch, Marion Community Credit Union, Inc., The Marion Star, Wyandot Inc., Morral Companies L.L.C., Marion Technical College, Sims Brothers Recycling, Whirlpool Marion Operations.
Similar Posts: