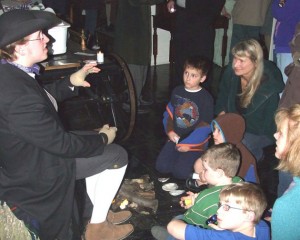 On March 23 and 24, 2018 from 7:00 PM to 9:00 PM, the Marion County Historical Society will present the 12th Annual "A Night at Heritage Hall" an evening of self-guided flashlight tours throughout Heritage Hall, a historic 1910 Federal Post Office converted into the Heritage Hall Museum.
As visitors tour by flashlight (provided), around every corner and in the most unusual places they will meet historical personalities from many different eras and walks of life. Characters vary from year to year, but one can expect everything from Vietnam, Civil War, WWI or WWII soldiers to Native Americans, pioneers, U.S. Presidents, inventors and local historical personalities.
Only at "A Night At Heritage Hall" can visitors meet Civil War soldiers who regale them with tales of war and glory. Guests may converse with a president or two, join a Temperance march, or meet John Philip Sousa the American composer and conductor known for American military and patriotic marches. The event, inspired by the movie "Night At the Museum" inserts each guest into the position of a night watchman at the Heritage Hall Museum where they discover that all the exhibits come to life after the sun sets.
Advance tickets are available at $7 per person nonmembers and $3.50 for MCHS members. Send check or money order to Night at Heritage Hall, 169 East Church Street, Marion OH 43302 (be sure to specify which night). Deadline for pre-registration is March 22. Advance tickets may be purchased online at www.marionhistory.com or by paying at the museum by cash, check or money order.
Tickets are available at the door, the evenings of the event, at $8 per person nonmembers and $4 MCHS members.
For more information call the Marion County Historical Society at 740-387-4255. Located at 169 East Church Street in Marion, Heritage Hall is the headquarters of the Marion County Historical Society.