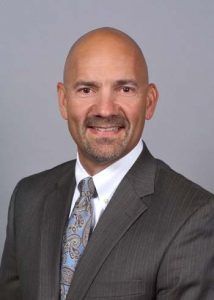 The Marion City Schools Board of Education voted on Monday, March 19, to hire Dr. Ronald Iarussi as their new superintendent. The hiring comes after a year-long search to find the candidate with the right interpersonal and communication skills necessary to build trust with students, staff and the community.
The board said that Iarussi will continue their focus on implementing pathways to college and career readiness.
"Dr. Iarussi brings over 16 years of experience as a superintendent," board president Ted McKinniss said. "The board will look to him to use that experience to be a community leader bringing together the best Marion has to offer to our students, staff and all stakeholders."
The board offered Dr. Iarussi a five year contract on essentially the same terms of the contract awarded previously to former Superintendent Gary Barber, who resigned in March 2017 to become the superintendent in Tiffin. Dr. Iarussi's contract officially begins August 1. As he completes his work at his current position, he will work with the District as time permits prior to his start date.
Dr. Iarussi has served as the superintendent of the Mahoning County Educational Service Center since 2009. He has overseen the Mahoning County Career and Technical Center as superintendent since 2014 under a shared services agreement with the educational service center.
He previously worked as superintendent of Columbiana Exempted Village Schools for six years.
He also works as an adjunct professor at Ashland University.
He currently lives in Struthers with his wife, Pamela Prater Iarussi. They have two sons, one currently working in Moscow and another who will be attending Purdue University to study civil engineering and construction management. He will be relocating to the Marion area this summer.
He earned a doctorate of education degree in educational leadership and administration from Youngstown State University and a master of education and superintendent certification from Ashland University. He majored in education at Youngstown State University.
Dr. Iarussi believes his career-readiness philosophy aligns with Marion. He looks forward to creating relationships with business and community leaders. As superintendent of an educational service center he has worked with a number of local school districts and has gained experience in working with communities to determine what tools and skills students need to prepare them for their futures.
He is currently a member of the Mahoning Valley Manufacturers Coalition and the National Career Pathways Network.
Along with continuing the district's college/career ready focus, he is eager to lead the staff as it works on improving student achievement at all levels.
"We have the capacity to change mindsets and give people a lot of hope," Dr. Iarussi said. "If you ask anybody who has been around me, I am a very student-oriented person. I will not rest until every student has every opportunity to be successful."
Under his leadership, schools in the Columbiana Exempted Village School District earned recognitions including inclusion in the U.S. News and World Report Top 2000 High Schools and the U.S. Department of Education Blue Ribbon Schools Program.
His community involvement currently includes serving on boards including the United Way of Mahoning Valley Board of Directors and the board of directors of the Valley Care Hospital Association.
"Dr. Iarussi has demonstrated the dedication and knowledge necessary to create partnerships with industry and higher education that will serve our graduates well as they move on to college, adult education, the military or a high-demand job," McKinniss said.
He said the district would maintain its strong foundation in its Four Pillars based upon student leadership, personalized learning, research-based reading instruction and preparation for students' futures.
"Dr. Iarussi's charge will be to implement the Pillars with fidelity and hold the district accountable for student success," McKinniss said.