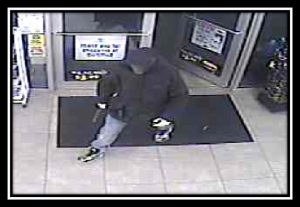 The Marion Police Department is seeking the public's help in identifying a man that allegedly robbed a Marion gas station in the early Wednesday morning.
On April 11, 2018 at 4:38am, officers responded to the Certified Oil gas station on East Center Street in regards to a reported armed robbery. Upon arrival, officers were advised that the suspect had been armed with a large knife, and left the store on foot. With the assistance of the Marion County Sheriff's Office, a perimeter was established and a Marion PD K9 team was called in to conduct a track of the suspect.
At this time, the suspect remains at large and is described as being a white male, late teens to early twenties, 5'8" to 5'10" tall, with a slender build, wearing a green mask or scarf around his face, dark grey hoodie, black and white tennis shoes and white or light colored gloves.
While the photo above is not very clear, the department has released a video that they believe shows the suspect attempting to break into another store just prior to the gas station robbery. Click here to view that video.
Anyone with information pertaining to this crime is asked to call the Marion Police Department at 740-387-2525 or the Marion Law Enforcement Tips Line (anonymously) at 740-375-TIPS. If you observe this subject, he should be considered armed and dangerous. Do not approach this person, but call law enforcement immediately.
Similar Posts: