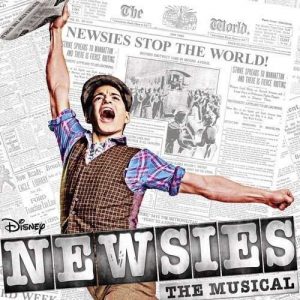 The Marion Palace Theatre kicks off their 90th Anniversary Season with the Tony Award-winning musical production "NEWSIES" directed by Clare Cooke. Inspired by a triumphant true story, "NEWSIES" leaps off the stage July 7-July 15 at the historic Marion Palace Theatre.
The Broadway phenomenon tells the story of a band of underdogs who took on the most powerful names in New York in a fight for what's right. Five show dates are scheduled for Saturday, July 7 at 7:30 p.m.; Sunday, July 8 at 2 p.m.; Friday, July 13 & Saturday, July 14 at 7:30 p.m. and Sunday, July 15 at 2 p.m. Patrons are encouraged to order tickets early for the best available seating.
Set in turn-of-the century New York City, "NEWSIES" is a fictional story inspired by the real-life Newsboy Strike of 1899. When newspaper publishers raised distribution prices at the newsboys' expense, newsboy Kid Blink led a band of orphan and runaway newsies on a two week-long action against the powerful publishing titans.
Timely and fresh, this lively musical adaptation features now classic songs "Carrying the Banner," "Seize the Day," and "Santa Fe" while it addresses age-old themes of social injustice, exploitative labor practices, and David-versus-Goliath struggles.
The production stars Tanner Wink as the charismatic Jack Kelly, Madisen Schenk as Katherine, Trevor Jones as Crutchie, Jay Reid as Davey, Brody Cahill as Les, Matthew Downing as Joseph Pulitzer, and Morgan Swartz as Medda Larkin.
Performing as newsies in the production are Kain Anderson, Addy Baird, Kim Bradshaw, Abigail Bush, Ryan Howard, Danielle Knight, Bishop Oldfield, Sarah Perkins, Jia Radloff, Owen Russell, Delaney Tabbert, Brody Thomas, Ashley Watkins, Brady Wink, and Sadie Wink with support from the Borough Newsies: Chloe Baker, Faith Baumgartner, Liam Bush, Zane Menzie, Carter Rawlins, Nolan Tiech, Audrey Watkins, and Noah Williams.
The cast is rounded out by the ensemble including William Adkins, Lyle Baker, Jeff Bush, Bruce Cudd, Linda Fargo, Sharon Gale, Sara Grote, Andy Harper, Mitch Hutchman, Justen LaPlante, Judy Little, Dustin Rawlins, Ryan Roth, Brian Schenk, Bob Sullivan-Neer, Ryan Swartz, and Owen Williams.
Under the direction of Clare Cooke the artistic team includes Assistant Director/Choreographer Kristi Wink, Orchestra Director Rick Baird, Vocal Director Blake Huffaker, Set Construction and Design Jeff Baldauf and Baldauf Construction, Costume Director Susan Wenig, Rehearsal/Pit Pianist Dee Ehrman, Stage Manager Barb Yaksic and Assistant Stage Manager Rhonda Arnold.
Tickets are $40 Patrons, $22/$18 Adults, and $12 Children 12 and under. Patrons purchasing a $40 ticket will enjoy premium seating during the show, have their names listed in the summer musical program newspaper, and receive an invitation to the "NEWSIES" post-show on opening night. Tickets for "NEWSIES" may be purchased at the Palace Theatre Box Office, 276 W. Center St. in downtown Marion or by phone at 740/383-2101 during box office hours. Box office hours are 9:00am-5:00pm Monday, Tuesday, Thursday and Friday, and closed Wednesday, Saturday and Sunday. Patron and Adult show tickets are also available online www.marionpalace.org.
"NEWSIES" is sponsored by OhioHealth and supported by Ohio Arts Council.