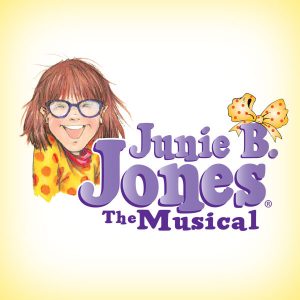 Under the direction of Kristi Wink, "Junie B. Jones, Jr." will go from page to stage at the historic Marion Palace Theatre. The junior musical is set to be performed Friday, October 5 at 7:30pm, Saturday, October 6 at 7:30pm and Sunday, October 7 at 2:00pm. Tickets are on sale now.
Starring over 40 local children ages 8 to 14 years, this adaptation of Barbara Park's bestselling book series features an adorable cast, fun-filled songs, and non-stop laughter. "Junie B. Jones, Jr." will capture audience's hearts just as the books captivate entire generations of students. With a spunky main character this favorite storybook geared toward children, becomes a delightful stage adaptation theatre-goers of all ages will love.
Playing the lead character, Junie B. Jones, will be young theatre veteran Macie Snyder. Supporting characters are Emmaly Bennett (Lucille), Nathan Rabun (Herb), Kade Ebert (Mr. Scary), Abby Isler (Mrs. Gladys Gutzman), Carter Rawlins (Daddy), Macyn Danals (Mother), Lucy Turner (Camille), Brooklyn Wallace (Chenille), Gabby Cametti (Grace), Scarlett Roston (Bobbi Jean Piper), Gabriel Douce (Mr. Woo), Carly Cruse (May), Quinn Menzie (Lennie), Ian Moore (Jose), Halli Schenk (Shirley), Noah Williams (Lunch Student), and Brody Cahill (Sheldon).
Rounding out the cast are cheerleaders played by Madelyn Cheney, Kylie Klaiber, Emma Peria, Elli Schenk, Katelyn Wicker, and Ruby Williams and students Rebecca Baldinger, Emma Chiles, Izabelle Cooper, Abby Coyan, Aubrey Curry, Liam Curtis, Londyn Danals, Aleena Davis, Emery Gorenflo, Emily Hypes, Marissa Loyer, Kylee Mosley, Emily Ratliff, Hillary Rawlins, Audrey Simon, Anna Songer, Ciara Sturm, Miley Turner, Susanna Turner, Waverly Werling, and Robbie Whalen.
For the best seats you are encouraged to order your tickets early in person at the Palace Theatre Box Office, 276 W Center Street, by phone (740) 383-2101, or online www.marionpalace.org. Ticket prices for the show are $18 adults, $12 children age 12 & younger.
"Junie B. Jones, Jr." is sponsored by Jim & Barb Greetham. Media sponsors are Marion Star and Majic 95.9. Palace programming is made possible in part by state tax dollars allocated by the Ohio Legislature to the Ohio Arts Council (OAC). The OAC is a state agency that funds and supports quality arts experiences to strengthen Ohio communities culturally, educationally, and economically.