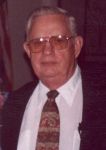 Lowell T. Roberts, 79, Marion, passed away on Saturday, May 15, 2010.
He was born on March 10, 1931 to the late Robert and Minnie Roberts in Kayford, West Virginia. Lowell was married on March 5, 1965 in Wyandot, Ohio to Joan A. (Steinman) Roberts who preceded him in death on May 25, 2009.
Lowell is survived by his children, Kim (James) Martin and Tom (Lori) Roberts all of Marion; grandchildren, Autumn Roberts of Columbus, Samantha Roberts, Brock Miller, Kendrah Martin, and Megan Betz all of Marion; great grandchild, Alexus Cox of Marion; numerous nieces and nephews.
He was also preceded in death by his brothers, Cecil, Arnold and Willard Roberts.
Lowell served in the Navy during Korea on the U.S.S LSMR (404) and was honorably discharged in March of 1955. He then worked and later retired from the Eaton Corporation in 1995.
Lowell also worked for over 30 years with his Roberts Tax Service and was a deacon and trustee for the Calvary Bible Baptist Church for 31 years as well.
Friends may call from 5 – 8 p.m. on Thursday, May 20, 2010 at Gunder/Hall & Folk Funeral Directors. A funeral service will be at 10:30 a.m. on Friday, May 21, 2010 in the Calvary Bible Baptist Church, 1419 Linn Hipsher Road, with Pastor Floyd Radebaugh. Burial will follow in Chapel Heights Memory Garden Cemetery with veteran rites conducted by the Marion County United Veterans Council.
Condolences may be expressed to the family at www.gunderhallandfolk.com