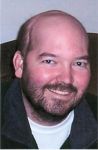 "Love Jesus. Love life. Love your family. Get dirty sometimes. Trash your classroom, because the kids will love it." These are just a few of the things that came so naturally to Scott, as he was a man who was not afraid to live.
Scott Robert Morrison went to be with the Lord on Thursday morning, June 10, 2010, at home surrounded by his loving family, following a courageous three year battle with brain cancer. He lived life as fully and deeply as possible in his 32 short years.
On September 30, 1977, Scott was born in Kansas City, Missouri, the son of Robert and Annie (Richey) Morrison. As a family they moved to Mount Vernon, where his father ministered to the Lakeholm Church of the Nazarene. When Scott was in the 11th grade, he began teaching Sunday School there and continued to do so through college. He graduated from Mount Vernon High School in the Class of 1996.
Following high school, Scott began studying at the Mount Vernon Nazarene University where he earned his bachelor's degree in elementary education and special education in 2000 and his master's degree in eduation in 2005. While there, he was instrumental in forming an organization known as "Servanthood Ministries," and their purpose was to be of service and help on any projects they could throughout the Mount Vernon community. The motto for MVNU is "To seek to learn is to seek to serve." and in his senior year, Scott was privileged to receive their highest honor, the "Service Above Self Award."
After graduating college in the fall of 2000, Scott took a position within the Mount Gilead Elementary Schools as a Special Education teacher. He truly felt called to help, and he used every form of multimedia possible to have fun with the kids. "He would write songs and jingles, or make videos and play all of the characters" to help make the learning process fun. Also, with the intention of encouraging father's to take a more active role in their children's lives, Scott started a father-son book club to help enrich their relationships.
In Mount Gilead, Scott was drawn to worship at the Gilead Friends Church. While helping with their youth group, he met another youth helper, Rebecca Jones, whom he had to get to know better. Their love blossomed and they were married shortly thereafter at the church, on July 26, 2002. Together Scott and Rebecca have served as the children's church leaders since 2005. They started Planet Zero!, the weekly children's church program, overseeing projects and writing curriculums. They also directed and performed numerous skits for church, and they even wrote, directed and produced their own Easter drama which they titled "The Greatest of These".
When asked "what words would you use to describe Scott as a father", his wife glowingly said, "He was all the best words." His two girls were truly the apples of his eye, and he took every opportunity possible to brag about them. Scott and Olivia were best friends and playmates and he would do anything she asked no matter how farfetched the request. He often acted out all of the characters in whatever book they were reading together. He and Olivia were "hilarious" together. Then, along came Lily and she was "such a prize" for Scott. "As the Lord fathered Scott, Scott fathered his children…with unconditional love."
For Scott, the whole "world was his stage" and he made sure there "was never a dull moment in the Morrison household." Along the way, Scott would always keep and use whatever props he could get his hands on for his next video. His juices were always flowing, and he would often be found rummaging through their "prop closet" at two in the morning, saying "I have an idea." He also used his struggles with cancer in his teachings, always being brutally honest about his experiences, and never giving up hope or faith.
Most important of all for Scott, was his love for the Lord. He had a quiet, steadfast faith and never missed an opportunity to share Jesus with others. Scott agreed with the Apostle Paul, who said, "But I do not account my life of any value nor as precious to myself, if only I may finish my course and the ministry that I received from the Lord Jesus, to testify to the gospel of the grace of God." (Acts 20:24)
Scott will be forever missed by his beloved wife and children: Rebecca, Olivia & Lily Morrison, of Mount Gilead; his parents, Bob & Annie Morrison of Mount Vernon; brother, Mark (Michelle) Morrison of Westerville; father and mother-in-law, Rick and LuAnn Jones of Mount Gilead; brother-in-law, Richard (Aleta) Jones, and their son, Garrett, of Maryland; paternal grandmother, Betty Morrison; maternal grandmother, Aline Richey, both of Mount Vernon; grandmother Rosemary Brown of Mount Gilead; and numerous aunts, uncles, cousins, extended family, and dear friends.
He was preceded in death by his paternal grandfather, Percy Morrison; and maternal grandfather, Jack Richey.
His family will greet friends from 2 – 6 p.m. on Sunday, June 13, 2010, at the Gilead Friends Church, 3613 Twp. Rd. 115 (SR 42), Mount Gilead. Services celebrating his life and giving glory to God will also be held there on Monday at 10:00 a.m., with Pastor Brian Mosher officiating and where he will star in his own videos. Burial will be observed privately by his family in Rivercliff Cemetery.
Snyder Funeral Homes of Mount Gilead is honored to serve the family of Scott Robert Morrison.
In lieu of flowers, memorial contributions may be made to the Scott Morrison Benefit Fund, to benefit his children, Olivia and Lily; and they may be sent to First Knox National Bank, P. O. Box 70, Mount Gilead, Ohio 43338.
Scott's family would to extent a heartfelt "thank you" to both the Mount Gilead and Mount Vernon communities for your overwhelmingly loving support.
Everyone is encouraged to share your special memories of Scott and your condolences to his family on his Facebook Memorial Page or by visiting www.snyderfuneralhomes.com.