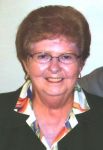 Janet Sue Wilson, age 68 of Martel passed away Thursday evening September 16th , 2010 at Galion Community Hospital.
Janet was born September 20th 1941 the daughter of the late Dale and Grace (Lyon) Goken.
On September 20th, 1959 she married Ronald Wilson and he survives her at home.
Janet was a 1959 graduate of Martel High School. She was employed for a period of time at GTE and at Marion General Hospital, but her greatest love was the many years she spent helping children as a teacher's aide at Martel and Caledonia Elementary Schools.
Her love for children spilled over into her activities at the Martel United Methodist Church where she was a Sunday School and Junior Church Teacher. At home she enjoyed cooking and sewing and she always looked for to playing "Bunco " every month with her friends.
Janet leaves behind her children, Brian & Deborah Wilson of Caledonia and Kristy & Jerry Baldinger of Martel. She'll be sadly missed by her grandchildren, Gary Baldinger. Jill & Jerrid Schultz, Kenny & Brandon Wilson. She will also be remembered fondly by her sister-in-law Emma Wilson and her two daughters Karolyn and Ruth Ann.
A celebration of her life will take place at 11:00 A.M September 20th, 2010 in Martel United Methodist Church with Rev. Joseph Platt and Pastor Yvonne Hechler officiating. Interment will follow in Caledonia Cemetery. Friends may call at the Timson Allen & Melroy on Sunday from 2 until 4 and 6 – 8.
Memorial contributions may be made to the American Lung Association or Martel United Methodist Church. On Line Condolences may be expressed to the family at www.timsonallenmelroy.com.