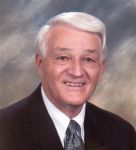 Ronald B. Pitts, age 74, of Marion, died early Monday morning,October 18, 2010, at his residence surrounded by his family following a year long battle with brain cancer.
On January 31, 1936, Ron was born in Portsmouth, Ohio, the oldest of three sons to the late John and Pearl (Maynard) Pitts. He graduated from Portsmouth High School in the Class of 1954.
Furthering his education, Ron attended college at Ohio University, where he earned his bachelors degree in Business Administration in 1958. While there, he met DeAnna Conklin and they were married on September 13, 1958, at Temple Baptist Church in Portsmouth.
Shortly following his graduation, Ron enlisted in the U.S. Army during peace time and after six months of active duty he continued to serve his country as a member of the Army National Guard for several years.
For the next thirty-five years, Ron dedicated his life to GTE (Verizon), holding several positions within the company until retiring in 1993 as their Systems Director. Always hard at work, Ron continued to work after GTE, serving as Vice President of Marketing for H.A.S. of Indianapolis, working out of their Columbus office.
Throughout his career, Ron was active in civic organizations that included the Jaycees, Kiwanis, and he had served as Chairman of the United Way while he resided in Oxford, Ohio.
A man of conviction in his faith, Ron was an active member of the Trinity Baptist Church, where he held several leadership positions.
Ron was best described as a "simple and content man of integrity," who will be dearly missed by his wife of 52 years, DeAnna Pitts of Marion; three children: Blaine (Marcia) Pitts of Marion, and their daughter, Maggie; Amy Wilson of Worthington, and her children: Ashley, Alex and Caroline; and Steven (Anne) Pitts of Twin Falls, Idaho, and their children: Noah, Nathan and Julia; two brothers: Roger (Marilyn) Pitts of St. Petersburg, Florida, and Gary (Linda) Pitts of Portsmouth; and several nieces and nephews.
The Pitts family will greet friends from 4 – 7 p.m. on Thursday, October 21, at the Denzer-Farison-Hottinger & Snyder Funeral Home, 360 E. Center St., Marion. Services honoring his life will be held on Friday at 11:00 a.m. at the Trinity Baptist Church, 244 S. Main St., Marion, with Dr. Richard A. Farmer officiating. Burial with military honors will follow in Marion Cemetery.
Memorial contributions may be made to the Trinity Baptist Church or to Marion General Hospice, 278 Barks Rd. W. Marion, Ohio 43302.
For those wishing to express their condolences to Ron's family,you may do so online by visiting www.snyderfuneralhomes.com.