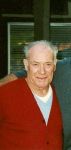 Evan L. Slane age 85 of Marion, Ohio passed away Wednesday, May 11, 2011 at Morning View Care Center.
He was born February 13, 1926 in Prospect, Ohio to the late Lester and Mary M. (Kline) Slane.
On September 21, 1946 he married Anna M. (Sparks) Slane, she preceded him in death on May 23, 2010.
Evan was a U.S. Navy veteran serving during WWII, he was formerly employed in masonary for William R. Paterson Constuction for many years.
He is survived by one daughter, Sharon (John) Clutter of Marion, OH., two sons, Larry Slane of Sun City, CA., Terry (Marybeth) Slane of Wildomar, CA., six grandchildren, Mikel Anderson, Cortney (Jeff) Davis, Leanne Slane, Meghan (Mike) Harding, Amiee (Jeret) McClellan, Erin (Scott) Addison, nine great grandchildren, a special nephew, Ron (Jill) McQuerry of Marion, OH.
Evan was preceded in death by two brothers, Lester Jr. and Hughie Slane and one sister, June Mercer.
Funeral Services for Evan will be Thursday, May 19, 2011 1 PM at the Boyd-Born Funeral Home with Pastor Charlene Baughman officiating. Burial will follow at Prospect Cemetery with the Marion County United Veterans Council conducting a military service. Visitation will be Thursday, May 19, 2011 from 12 – 1 PM at the Boyd-Born Funeral Home.