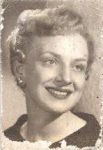 Veta Sue Hondros age 74 of Marysville, Ohio formerly of Marion, Ohio passed away Thursday, June 30, 2011 at Heartland of Marysville.
She was born February 8, 1937 in York Center, Ohio to the late James W. and Kathryn (Winters) Davis.
On September 15, 1956 she married Nick Hondros, he preceded her in death on March 28, 1994.
Veta was a resident of Marion, Ohio for 45 years where she attended St. Paul's Episcopal Church and was a member of The Greek Ladies Club, volunteer for Adult Literacy and was an avid reader. While she was living in Marion she was employed for several years at Clark Metal as a secretary, a teller at Fahey Bank, and florist at Marion Flower Shop.
She is survived by her children, Nick G. (Kristy) Hondros of Tulsa, OK., Kimberly K. (Robert Scott) Hondros-Scott of Ontario, CA., Gregory A. (Pamela) Hodros of Bradford, MA., Sara L. (Phillip) Hondros-Walls of Marysville, OH., six grandchildren, Nick Vincenzo Hondros, Nichole Marie Hondros, Alexander Davis Hondros, Maxwell Marou Walls, Madison Leigh Walls, Mason Elizabeth Fuhring Walls, sister, Sharon (William) Hyde of Alpena, MI., nephew, Brian (Cyndi) Hyde their children, Heather and Danielle; niece, Lisa (Seth) Mindell their children, Max, Samantha and Jack, aunts, Charlotte (Kenneth) Coons of Bellefountaine, OH., Ruby Davis of Richwood, OH., cousin, Chuck (Suzie0 Coons of West Liberty, OH.
Funeral Services for Veta will be held Tuesday, July 5, 2011 8 PM at The Boyd-Born Funeral Home with Pastor Barry Scott officiating. Visitation for family and friends will be Tuesday, July 5, 2011 from 5 – 8 PM at the funeral home.
Memorial contributions may be made to th Union County Humane Society, 16540 County Home Rd. Marysville, Ohio 43040.