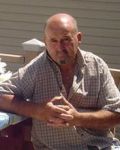 Rocky L. Wurtsbaugh, age 60 of Richwood died Sunday morning, August 7, 2011 at Riverside Methodist Hospital with his devoted family by his side.
He was born January 11, 1951 in Kenton to the late Emmett "Junior" and Patricia Ann (Smith) Wurtsbaugh. He was also preceded in death by a son, Rocky Lee.
On July 24, 1981 he married the former Brenda L. Ritchie and she survives in Richwood.
He was a member of the Apostolic United Pentecostal Church in Marysville. A 1971 North Union Graduate, he worked for 24 years at Liberty Castings as a pattern maker. He was a master carpenter and an avid outdoorsman who loved fishing, hunting and collecting arrowheads. He also enjoyed collecting coins.
Besides his wife, he is survived by a daughter, RaVonda (Tom) Taylor, Marysville; four sons, Ronne (Dorothy) Wurtsbaugh, Goshen, Indiana; Jonny Ray, Matthew R. and Robert A. Wurtsbaugh, all of Richwood; three brothers, Junior (Sandy) Wurtsbaugh, Marion; Gary (Peg) Wurtsbaugh, Richwood; Donny Wurtsbaugh, Marion; a sister, Clarice Ann (Ron) Phillips, Marysville; eight grandchildren and one great-granddaughter.
Funeral services will be Thursday, August 11, 2011 at 11:00 AM in the Stofcheck-Ballinger Funeral Home, Richwood with Pastor Robert Jeffers officiating. Burial will follow in York Cemetery. Friends may call from 5 to 8 PM on Wednesday.
Memorial gifts may be made to the Apostolic United Pentecostal Church, 18838 Paver Barnes Road, Marysville, OH 43040.
Condolences and remembrances may be expressed at www.stofcheck-ballinger.com.