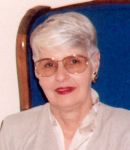 Betty L. Moore, age 74 of Richwood, died Thursday morning, November 10, 2011 at her home with her loving family by her side.
She was born February 10, 1937 in Richwood to the late Thomas J. and Blanche I. (Moore) Morrison.
On June 21, 1969 she married Jack A. Moore in Marion and he survives.
A 1955 graduate of Harding High School, she worked at Huber Manufacturing in Marion until 1969. Betty then worked in the hotel industry in Columbus as a Sales Director and General Manager until her retirement in 1998. She was an avid gardener and a member of the Richwood Garden Club.
Besides her husband, she is survived by five children, Richard L. (Lisa) Fugitt, Reynoldsburg; Mitchel L. Fugitt, Gahanna; Belinda L. Hunter, Whitehall; Robert L. Fugitt, Columbus; Alan L. (Mindy) Moore, Baltimore, Maryland; three grandchildren, two great-grandchildren; a sister, Susan (Kenneth) Field, Marion.
A memorial service will be held Sunday, November 13, 2011 at 3:00 PM in the Richwood First United Methodist Church with Pastor Joe Rhea officiating. Friends may call one hour prior to the service.
Memorial gifts may be made to Loving Care Hospice, P. O. Box 613, Marysville, OH 43040.
Condolence and remembrances may be expressed at www.stofcheck-ballinger.com