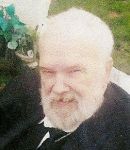 Ferdinand Dean Joseph Whalen I passed on to celebrate his eternal birthday with our Lord Jesus Christ on Christmas morning on the Lord's Day, December 25, 2011 at 5am.
Dean was a devout Christian Catholic who moved to Marion from Renous, New Brunswick, Canada at age 9.
He graduated from Marion Catholic High School in 1962 where he still carries the record for most defensive tackles in single game during his Junior year.
He married Dorothy Kim Sayre at St. Mary Catholdic Church on July 13, 1968, and although they divorced in 1971, he considered her his best friend even with his dying breaths.
He retired from Whirlpool in 2001 after 36 years, with the last 20 in the maintenance crib.
Dean was our true life Santa Clause, AKA "Dean-O," "Deaner Dog," or as his favorite Dr. Hayes, whom he loved dearly, called him, "Big Guy." Dean was cared for by many doctors & nurses who he appreciated. Dean had a wonderfully fruitful spirit. He was a loving, joyful, peaceful, patient, kind, good, faithful, and gentle man who tried to teach us self control by his examples of fasting his favorite things for 40 days every year for Lent, and his devotion to prayer 4 times a day, never praying for himself or material things, but always thinking of & putting others first. He suffered these many years holding on for his family, friends, and the only dog he's ever owned, Mya.
What an honor to celebrate his ultimate healing on a resurrection Christmas. This was his Christmas miracle.
Dean was preceded in death by his parents, William & Mary Whalen, and his sister, Carleen Schofield.
He is survived by 2 brothers, Kenny (Helen) Whalen and Terry Whalen and their children & grandchildren & Carleen's daughter Lisa (Shane) Oney & their children, 2 biological children, Shay (Vinney) Scerbo and Ferdinand Joseph Dean Whalen II, and their children Courtney Johnson, Kyle, Casie, Brittany & Robby Patterson, Brent & Joseph Whalen, and Kyle's daughter Shilo, 2 grafted in step children Jason Holsinger and Catrina (Chris) Crawford and their children Jeremy, Mariah & Colten Holsinger, Shantell, Aundrea, Skyler, & Dustin Bosley, & Jeremy's 2 daughters Aubree & Lenaya, and many other step grandchildren, nieces, nephews, cousins, & friends as well as family back in Canada.
Rest in peace..you will be missed but celebrated always!
Calling hours will be held at the Boyd-Born Funeral Home on Thursday, December 29, 2011 from 4-8PM. The funeral service will be officiated by Father Michael Nemocks at St. Mary Catholic Church on Friday, December 30, 2011 at 10:30AM. Internment will follow at a later date.
Contributions may be given to the family in care of the Boyd-Born Funeral Home to help the family with expenses. Online condolences may be expressed to the family at www.boydbornfuneralhome.com.