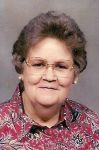 Rachel N. Abrams age 74 of Canton, Ohio, passed away Friday March 2, 2012 at Mercy Medical in Canton.
She was born May 21, 1937 in Marion, Ohio to the late Ernest A. and Winifred B. (Lampert) Abrams.
Rachel was a former member of Oakland United Methodist Church in Marion, and was retired in office management from the Nationwide Insurance Co. She was also a U.S. Army Veteran.
Rachel is survived by two sisters and four brothers; Martha Abrams of Canton, Ohio, Opal Gregory of Springdale, Ak., Everett (Thelma) Abrams, Martin (Linda) Abrams, Robert (Joyce) Abrams, and James (Sharon) Abrams all of Marion, Ohio. Also numerous nieces and nephews survive.
Besides her parents, she was preceded in death by four sisters and three brothers; Freda, Rose, Thora Belle, Wanda, Ronald, Alva, and Benjamin.
There will be a memorial service for Rachel on Saturday March 17, 2012 at 10:00 A.M. at the Oakland United Methodist Church, 835 Bellefontaine Ave., Marion. Officiating the service will be Rev. Ralph Velazco. Calling hours will not be observed. Burial will take place at a later date.
In lieu of flowers contributions can be made to the Marion Area Humane Society, 2264 Richland Rd., Marion, Ohio 43302. On line contributions to the family can be made at www.boydbornfuneral.com.