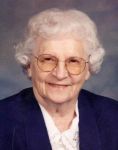 Winifred Lucille "Dub" Miller, age 90, of Marion and formerly of Waldo, went to be with the Lord early Thursday morning, March 15, 2012, at the Kingston Residence of Marion.
On May 17, 1921, Winifred Lucille was born at home in Waldo, the second of five children of the late John and Gertrude (Augenstein) Ward. As a child, her younger brother Jim could not pronounce her name and called her "Dub". From that moment on, "she was known to friends and family as 'Dub'."
A graduate of Waldo High School in the Class of 1939, Dub excelled in basketball helping her team go nearly undefeated through her entire high school career. While there she met her husband to be, William George "Bill" Miller, whom she married just before he entered the service, on November 11, 1941.
Upon Bill's honorable discharge, Dub and Bill returned to Marion, Ohio until they could save enough money to buy a farm outside of Waldo. After working for JC Penney, Dub chose to stay at home and raise her three sons, Kevin, Kendall, and Kaye, and help with the farm.
A woman ahead of her time, in 1973 she started a career at the Richland Mutual Insurance Company as Secretary/Treasurer where she remained for over 30 years, retiring in 2002.
Dub was a very active member of the St. John Lutheran Church in Windfall, where she participated in the Peacemakers and the Women of the Church.
To say Dub was an avid sports fan would be a drastic understatement, she watched every sport possible, and she especially enjoyed cheering on her beloved Ohio State Buckeyes.
A family woman first and foremost, Dub cherished every moment surrounded by her family. Her two grandchildren were the "apples of her eye", and she loved taking family vacations with them.
The word that best describes Dub would be "devoted", as she devoted her entire life to her church, family, and friends. No matter the occasion, you could count on Dub's loving presence.
She will be dearly missed by her beloved three sons: Kevin (Alice) Miller of Doylestown, OH, Kendall (Nola Gleason) Miller of Cardington, and Kaye Miller of Dallas, TX; two grandchildren: Daniel Ward Miller and Lauren Rae Miller of Doylestown, OH; two siblings: Anna Mae Reiff and James (Vi) Ward, both of Waldo; and numerous dear nieces and nephews.
Including her parents, Dub was preceded in death by her husband of over 51 years, Bill Miller, on July 21, 1993; two brothers: Johnny and Chuck Ward; a sister-in-law, Mildred Ward; and brother-in-law, Eldon Reiff.
The Miller and Ward families will greet friends from 2 – 5 p.m. on Sunday, March 18, 2012, at the Denzer-Farison-Hottinger & Snyder Funeral Home, 360 E. Center St., Marion. Services giving glory to God will be held on Monday at 11:00 a.m. at the St. John Lutheran Church in Windfall, 5070 Newsmans Cardington Rd. E., Cardington, with Rev. Adam Sornchai officiating. Burial will follow in Windfall Cemetery beside the church.
Memorial contributions may be made to the St. John Lutheran Church in Windfall.
Denzer-Farison-Hottinger & Snyder Funeral Home is honored to have been chosen to serve Dub's family, and your private condolences may be expressed to them by visiting www.snyderfuneralhomes.com.