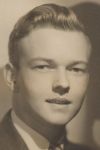 Orville J. Decker, age 84 of Kenton and formerly of Marion, passed away unexpectedly on Friday evening April 6th, 2012 at Hardin Memorial Hospital.
He was born February 6, 1928 in Hepburn, Ohio as the son of the late Orville T. and Georgia (Dunson) Decker.
Orville was a graduate of Kenton High School, he enlisted in the Army following WWII, and served as part of the occupational forces of Germany.
He was married to the former Jeanne Underwood in 1973, and she preceded him in death.
Orville was a foundry engineer, having worked for Marion Power Shovel from 1954 to 1974 on the construction of the Space Crawler, on the Space Shuttle program while employed by Rockwell International, and was self employed as aa foundry consultant from 1974 unil his retirement.
He was a member of Marion Moose Lodge 889, loved his computer, was an avid reader, especially of Mark Twain. He was a history buff , but centered most of his knowledge around Civil War. He also enjoyed fishing.
Orville is survived by his four daughters, Linda Decker of Mansfield, Patricia Martin of Marion, Barbara (Jerry) Crampton of Morral and Marje (Jeff) Bennett of Zanesville, six grandchildren, ten great grandchildren, his special friend Marilyn Derkson of Huber Heights. In addition to his wife and parents, he was preceded in death by three brothers and two sisters. Graveside services for Orville will be held at 10:00 on Saturday, April 21, 2012, in the Caledonia Cemetery, calling hours will not be observed.
The Timson Allen & Melroy Funeral Home in Caledonia is handling arrangements. Memorial Contributions may be made to the American Heart Association or Marca Industries. On line condolences may be expressed to the family at www.timsonallenmelroy.com