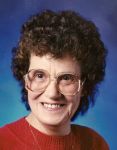 Ruby Nadine Eager went to be with the lord Jesus Christ on April 16, 2012.
Nadine was born on December 26, 1924 to John F. Fulton and Amanda Melvina (Karnes) Fulton in Marion, Ohio.
On December 28, 1945 she married Ray Perry Eager.
Nadine was mostly a mother and a homemaker. She retired as a cook for the Marion City Schools. During W.W.II, she worked for the United Rubber Company, manufacturing bombs for the war effort. She also worked for the Fulfillment Corporation, handling magazine subscriptions.
Nadine was preceded in death by her parents, her husband Ray Perry Eager, her son Randy Ray Eager and a brother, Finley Ray Fulton. She is survived by her sons; Jonnie (Sharon) and Danny Jay Eager. Also by Jonnie's step-son, Anthony Allen (Sylina) Clark; his son Drew Allen Clark and Sylina's children; Bradley and Brianna Warner and Linda Jackson.
Her son Danny added this: "Another of 'The Greatest Generation' has left us. You still live in our hearts and memories."
A very special thanks goes to the entire staff and management of Partners of Marion and Heartland Hospice of Marion. In lieu of flowers contributions can be made to Heartland Hospice at 685 Delaware Avenue, Suite 200, Marion, Ohio 43302.
A Memorial Service will be held at 1:00 P.M., April 28, 2012 at the Vineyard Church of Marion, 465 West Center Street.
Condolences to the family can be made at www.boydbornfuneralhome.com.