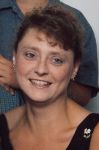 Velma Kay Beddow, age 41 of Caledonia died Tuesday, April 3, 2012 at Marion General Hospital after a lengthy battle with diabetes and other illnesses.
She was born October 30, 1970 in Marion to the late Carl and Pam (Rush) Mounts.
On March 10, 1998 she married Richard E. Beddow in Marion and he survives in Caledonia.
A 1989 graduate of Harding High School, she earned her bachelors' degree from The Ohio State University. She had worked at GTE before her health prevented her from working. Velma enjoyed camping and fishing and being with family. Her kids were the most important thing in her life.
She is survived by a son, Jordan Beddow, Marion; two daughters, Nettie and Rebecca Beddow at home; two brothers, Verne (Tonya) Mounts, Ashland; Brian (Kathy) Mounts, Cardington; three sisters, Elizabeth Parks, Indian Lake; Patricia E. Demorest, Prospect; Carleen (Mike) Cumston, Priest River, Idaho; aunts, Mona (Keith) Hess, Marion; Pat (Jim) Veach, Richwood; Dorothy (Rev. Robert) Schmelzer, Richwood; and an uncle, Larry (Kathy) Rush, Stone Mountain, Georgia.
Funeral services will be Friday, April 6, 2012 at 7:00 PM in the Stofcheck-Ballinger Funeral Home, Prospect with Pastor Russell Howard officiating. Friends may call 2 hours prior to the service beginning at 5:00 PM.
Memorial gifts may be made to the family in care of Stofcheck-Ballinger Funeral Home, P. O. Box 227, Prospect, OH 43342.
Condolences and remembrances may be expressed at www.stofcheck-ballinger.com.