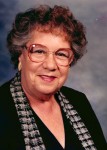 Darlana Mohren Smith age 76 of Marion went to be with the Lord on Sunday, May 5, 2013 at Select Specialty Hospital in Columbus, Ohio.
Born November 26, 1936 in Fort Worth, Texas to the late Harry Earl and Thelma V. (Wynn) Marvin.
On December 9, 1972 she married James Russell Smith who preceded her in death on October 17, 2010.
Darlana worked for Los Angeles County in California, Marion General American Credit,The U.S. Postal Service, and worked with her husband at Marion News Agency.
She is survived by her children, Pamela Crissinger, Charles (Nancy) Mohren, Carol (Franklin) Helms, Victor Smith, Victoria (Byron) Palmer, nine grandchildren, several great-grandchildren, and a number of nieces and nephews.
Darlana was a member of The First Church of the Nazarene.
A Memorial Service will be held at the First Church of the Nazarene at 10:30 A.M.  Wednesday, May 8, 2013 with Pastor Steve deWeber officiating. Burial will be held at a later date in Claibourne Cemetery.
Memorial Contributions may be made to the First Church of the Nazarene. Gunder/Hall & Folk Funeral Directors are assisting the family with arrangements. Condolences may be expressed to the family at www.gunderhallandfolk.com