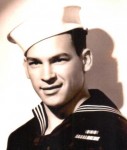 Donald M. Hensel, age 90, of Marion, died Saturday evening, May 11, 2013, at the Sterling House in Marion following an extended illness.
On December 6, 1922, Don was born in Kenton, Ohio, the oldest of nine children of the late Marcus and Mabel (Thompson) Hensel.  He graduated from Marseilles High School, where he excelled in basketball, setting many records and earning 1st Team All-Ohio.
Following graduation, Don enlisted to serve in the U.S. Navy, a veteran of World War II.  He served as a heavy equipment repairmen, and was stationed in the Solomon Islands.
For over 30 years, Don worked as a heavy equipment specialist for the Defense Supply Center in Columbus, until his retirement.
Later in life, Don enjoyed taking up golf as a hobby.  He also was an all-around sports fan, watching many sports, especially his beloved Ohio State Buckeyes.
For the past 40 years, Don has dedicated his life to the Elks Lodge No. 32 in Marion, where he was a past exalted ruler.  He also formerly was a member of the Masonic Lodge in Marseilles.
He will be missed by his three sons: Don "Lee" Hensel of Marion, Larry (Marcia) Hensel of Xenia, and Roger (Karen) Hensel of Marion; seven grandsons: Toby, Chad, Briggs, Travis, Grant, A.J. and Brock; thirteen great-grandchildren: Jaden, Addison, Peyton, Tyler, Logan, Alexis, Taylor, Riley, Mia, Luke, Cooper, Eva and Owen; three brothers: Wilbur Hensel of Forest, Lowell Hensel of Marion, and Clair Hensel of Morral; a sister, Marjorie Ann Howell of Richmond, IN; and many nieces and nephews.
Including his parents, Don was preceded in death by his son, Richard "Rick" Hensel in 1970; four brothers: Dale, Vernon, Warren and Wayne Hensel; and by his former wife, E. Louise Hensel.
The Hensel family will greet friends from 12:30 – 2:30 p.m., Friday, May 17th, at the Denzer-Farison-Hottinger & Snyder Funeral Home, 360 E. Center St., Marion.  Services will follow at his graveside in Marion Cemetery with service honors provided by the Marion County United Veterans Council and the Elks Lodge No. 32.
Memorial contributions may be made to the Elks Lodge No. 32, 130 ½ S. State St., Marion, OH 43302.
Denzer-Farison-Hottinger & Snyder Funeral Home is honored to have been chosen to serve Don's family and your private condolences may be expressed by visiting www.snyderfuneralhomes.com.