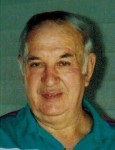 Robert Mosley, age 90 of Marion, passed away at Heartland of Marion on Tuesday, August 13, 2013.
He was born on March 20, 1923 to the late Steven and Martha (Patton) Mosley in Knott County, KY.
On August 24, 1942, Robert married Helen Litteral in Wayland, KY, and she preceded him in death.
Robert was a loving father who loved coon and rabbit hunting.  He worked as an oven operator at Alloy Cast Steel Company, retiring after 31 years of service.
Besides his parents and wife, Robert was also preceded in death by a brother, Delmus Mosley, and 3 sisters, Lucy Manns, Virgie Moore and Versie Smith.  Surviving Robert are sons, Robert Keith (Olivia) Mosley of Marion, Mike (Lisa) Mosley of Marion, Steve (Melinda) Mosley of New Bloomington, a daughter, Lana Sue McCoy of Marion, his sister, Marie Page of Kentucky, 10 grandchildren, 5 great-grandchildren, as well as numerous nieces and nephews.
Funeral services for Robert will be on Saturday, August 17, 2013, at the Boyd-Born Funeral Home at 10:30 AM.  Pastor Jerry Copley will officiate the service.  Interment will immediately follow at Grand Prairie Cemetery.  Friends and loved ones may call on the family on Friday, August 16, 2013 from 5-8 PM also at the funeral Home.
Robert's family would like to express their heart-felt thanks to Home Health Care Concepts, Heartland of Marion, American Nursing, and Marion General for the excellent care of their loved one.
In lieu of flowers, donations may be made to Marion General Hospital Hospice.  Online condolences may be expressed to the family at www.boydbornfuneralhome.com.