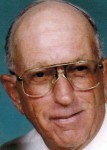 H. Claire Harper age 80 of Marion, Ohio passed away Thursday, August 29, 2013 at Heartland of Marion.
He was born November 16, 1932 in Marion, Ohio to the late Cecil P. and Viola (Zieg) Harper.
On May 20, 1978 he married Anna J. (Pence) Harper, she preceded her in death on December 31, 2011.
H. Claire was a veteran of U.S. National Guard, he was a farmer most of his life, and was employed at Automated Petroleum and Pfeiffer Oil for 15 years as a fuel salesman. After he retired he worked at Five Star Car Wash and Elgin Schools doing lawncare maintenance.
He is survived by his children, Stephanie (James) Huchings of Marion, Oh., Brent (Karla) Harper of Marion, Oh., Greg Harper of Marion, Oh., step-children, Mike Redmond of Kenton, Oh., Mark Redmond of Nevada, Oh., 5 grandchildren, 6 step grandchildren, 3 step great grandchildren, two special nieces, Norma (Von) Kearns and Cheryl (Ron) Diegle and numerous nieces, nephews, great nieces, great nephews and one great great nephew.
He was preceded in death by his brother, Marion Harper and his step great grandson.
Visitation for family and friends will be held Tuesday, September 3, 2013 from 5 – 9 PM at the Boyd-Born Funeral Home. Burial will take place at Price Cemetery at a later date.
Memorial contributions can be made to Green Camp Emanuel Reformed Church.
On line condolences may be expressed to the family at www.boydbornfuneralhome.com