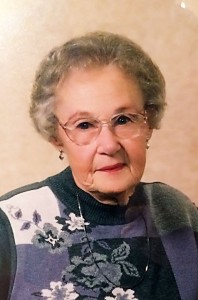 Nina E. Cunningham Bumgarner, 91 of Richwood, died Thursday, July 17, 2014 at Primrose Assisted Living in Marion.  She was born February 11, 1923 in Dover Township to the late Walter and Blanche (Liggett) Low.
She was a 1940 graduate of New Dover School, riding the school bus her father drove for her entire twelve years of school, and then graduated from Marion Business College in 1942.    She was a member of Pharisburg United Methodist Church.  She married Dwight W. Cunningham in Cincinnati in 1942 and he preceded her in death on September 4, 1975, as well as a brother, Dwight W. Low.
Nina worked for the U. S. Engineers office in Cincinnati and Columbus and was the office clerk or secretary at the Marysville Journal-Tribune, Dayton Power and Light, Ohio Reformatory for Women and Thorpe Motors, and was a clerk for Weiss' Dept. Store.
In 1979, she married Millard E. Bumgarner after retiring from the public work force and becoming a devoted farm wife.  She loved being a homemaker, grandmother, stepmother and step-grandmother.  She enjoyed taking Florida vacations, camping trips at Summersville, West Virginia and family gatherings.  She also enjoyed doing word puzzles, yard work and collecting covered bridge artifacts.
She is survived by her son, Ned (Gail) Cunningham, Mt. Gilead; her daughter, Nancy (Larry) Rubeck, Raymond; grandchildren, Todd (Corrie) Cunningham; Sheryl Cunningham; Nichole (Kasey) Schurtz; Annette (Casey) Rice; great-grandchildren, Alexander, Joshua and Adeline Cunningham; Mia and Max Schurtz; her sister, Wanda Sue (Walter) Snoddy; her sister-in-law, Ann Low, Marysville; step-children, Brenda (Jon) Davis; Connie (Joe) Isler; Ned (Terry) Bumgarner; Ben (Pamela) Bumgarner; thirteen step-grandchildren, Gina Davis, Kathy (Mike) Karcher, Krista (Keith) Salyer, Jason (Mandy) Swartz, Nate (Teresa) Swartz, Traci (Craig) Simo, Stefanie (John) Castles, Neal (Stephanie) Bumgarner, Brook (Derrick) Lowe, Kirby (Jason) Rowe, Luke, Paige (Justyn) Clevenger and Autumn Bumgarner; seventeen step-great-grandchildren and several nieces and nephews.
Funeral services will be Tuesday, July 22, 2014 at 11:00 AM at the Stofcheck-Ballinger Funeral Home, Richwood with Pastor Joe Rhea officiating.  Burial will follow in Claibourne Cemetery.  Friends may call from 5 to 7 PM on Monday at the funeral home.
Memorial gifts may be made to the Pharisburg United Methodist Church, 13317 Ohio 347, Marysville, OH 43040.
Condolences and remembrances may be expressed at www.stofcheck-ballinger.com