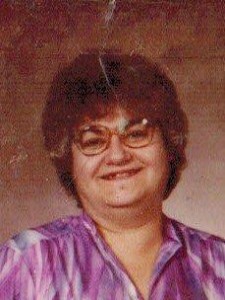 Delia Josephine Butterman age 73 of Marion, Ohio, passed away on Tuesday November 11, 2014 at the Riverside Methodist Hospital in Columbus, Ohio.
She was born July 9, 1941 in Martin County, Ky. to the late James Hyder and Ida Mae (Cassell) Jones.
On April 15 of 1963 she married Merrill Butterman and he preceded her in death in August of 2003.
Delia was retired as an assembler from the Whirlpool Corporation. She was a member of the Church of Jesus Christ of Latter Day Saints, was a past member of the Eastern Star, and past President of the PTA at Oak Street School. She was also quite a prolific singer and sang at various nursing homes in the area.
Delia was a loving and caring wife , mother, and grandmother. With her wonderful voice, her siblings remember her singing them to sleep with a song, "Come Raggle Taggle with the Gypsies O".
Delia leaves behind a daughter and two sons; Deanna Brophy (Alan Steinberger) of Marion, Ohio, Martin Butterman (Melissa Foster) of Marion, Ohio, and Merrill Alan Butterman, Jr. (Janice Bowen) of Arizona. Five grandchildren and one great grandchild survive. Also surviving are five sisters and two brothers; Brenda Jones of Marion, Ohio, Kay Slob of Marion, Ohio, Nancy Moloney of Indiana, Kathy Kincaid of Savannah, Ohio, Pam Glock of Arizona, Charles Jones of Marion, Ohio, and David Jones of Arizona. Numerous nieces and nephews survive as well.
Besides her parents and her husband, Delia was preceded in death by a daughter, Mary Beth Ann Butterman, and two brothers; Douglas and Samuel Jones.
Funeral Services will be on Tuesday November 18, 2014 at 1:00 P.M. at the Church of Jesus Christ of Latter Day Saints, 1725 Marion-Edison Rd., Marion, Ohio. Officiating the service will be Brother Ken Wakely and Brother Gil Crawford. Burial will take place at a later date. Friends may call at the church two hours prior to the service on Tuesday from 11 to 1 P.M.
In lieu of flowers contributions can be made to the family in care of the funeral home. On line condolences to the family can be made at www.boydbornfuneralhome.com.