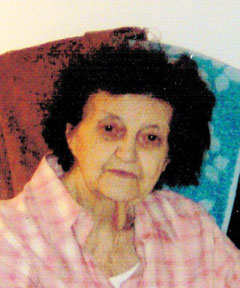 Eva Jane Eastman age 94 of Newark, Ohio, passed away on Saturday, January 17, at 9:20 p.m. in Licking Memorial Hospital.
She was born November 30, 1920 in Pahuska, Oklahoma, she was the daughter of the late Harry E. Carman and Madge (Siniff) Carman.
She graduated from Lafayette High School and St. Rita's Nursing School in Lima, Ohio where she worked for several years at St. Rita's Hospital.
On September 6, 1942, in Lafayette, she married James Burton Eastman. He preceded her in death.
After her husband retired from farming, they wintered in Florida and Texas for 28 years. She was a 53 year member of Epworth United Methodist Church and was active in the women's evening circle. The family wants to thank the church for remembering her by sending cards and a prayer shawl.
She is survived by a daughter, Mrs. Robert (Judy Louise) Pflaumer, Granville, Ohio; two grandchildren, Joe (Amy) Eastman, Ypsilanti, Michigan, Mrs. Paula (Chad) Schnitzler, Marion, Ohio; and two great-grandchildren, Keith Eastman and Kole Schnitzler. She was also preceded in death by a son, James E. Eastman and a sister, Jean Rhoads.
Funeral services will be on Saturday January 24, 2015 at 10:00 A.M. at the Boyd-Born Funeral Home. Officiating the service will be Rev. David Hoffman. Burial will follow in the Grand Prairie Cemetery. Friends may call at the funeral home on Friday January 23, 2015 from 5 to 8 P.M.
In lieu of flowers Memorial Contributions can be made to the James Eastman Ridgedale High School Band Scholarship Fund at 3101 Hillman Ford Road, Morral Ohio 43337. On line condolences to the family can be made at www.boydbornfuneralhome.com.