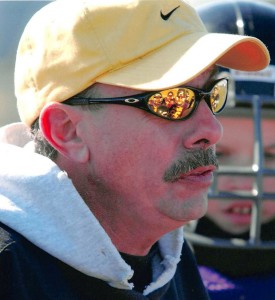 Nicholas "Nick" A. Sansotta, age 58 of Marion, passed away on Friday, Feria VI in Parasceve, April 3, 2015 surrounded by his loving family.
Nick was born on Apirl 23, 1956 in Marion, the son of Joseph A. and Doris J. (Malhke) Sansotta. Nick was a graduate of Pleasant High School. He worked at the Dana Corporation, which became the Sypris Corporation, for over 25 years.
Nick had a passion for all sports, especially football. For over 26 years, he coached in the Midget Football League. His team, the JETS, won an impressive 9 championships, making Nick the winningest coach in league history. He also was instrumental in forming the Marion Titans traveling football team.
Above all, Nick adored his family. He cherished all of the time that he was able to spend with his children and his beloved grandchildren.
Nick is survived by his children: Jason C. Sansotta, Jeremy A. (Amber Conner) Sansotta, Justin M. Sansotta and Jessica N. Sansotta; Grandchildren: Leeann, Gabby, Lindsie, Gavin, Ava, Giavanna and Cavin; Siblings: Debra J. (Randy) Myers, Joseph A. (Terri) Sansotta,II and  Stanford F. (Shahara Lawson) Sansotta and; and several nieces and nephews.
He is preceded in death by his parents.
Visitation will be held on Monday, April 6, 2015 at the Gunder/Hall & Folk Funeral Home, 347 West Center St., Marion from 4PM to 8PM; Mass of Christian Burial will be held on Tuesday at St. Mary Catholic Church, 251 North Main St. at 10AM with Fr. Thomas Buffer officiating; Entombment will be in the Marion Cemetery. Pallbearers will include: Aaron Neiderkohr, Nico Sansotta, Mason Clark, Da'Vell Winters, David Lewis and Tom Sheets.
If so desired, donations may be made to the family to benefit his grandchildren's education.
The Gunder/Hall and Folk Funeral Home, a division of Snyder Funeral Home, is honored to be serving Nick's family and condolences may be expressed at www.snyderfuneralhomes.com