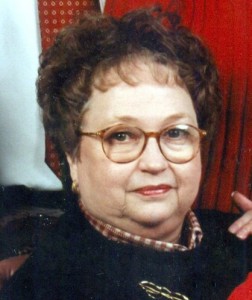 Sharon L. Thompson, age 69, of Marion, went to be with the Lord Tuesday morning, June 23, 2015, at the Marion General Hospital following over a twenty year battle with numerous ailments.
On September 18, 1945, Sharon was born in Marion, Ohio, one of two daughters of the late R. Terry and Lorene (Lawson) Bussey. She graduated from Marion Harding High School in the class of 1963.
Several years after graduating, Sharon was set up with a former classmate, Richard "Dick" Thompson, by each of their mother's who worked together. Shortly thereafter they were married on August 28, 1970. They have been by each other's side for nearly 45 years.
Out of school, Sharon worked in the sales office at Hall Beck Equipment Company. She also worked as a ward clerk at the Smith Clinic, at Hickory Grove Golf Course, and lastly as a receptionist for Macola Software, Inc. until she was no longer able to work due to her health.
A woman of faith, Sharon was a member of the Cornerstone Alliance Church, where many years ago she enjoyed singing in the choir. She also loved working with their card making club to make and send care cards all over the country.
Most important of all to Sharon was her family. She was crazy about her children and grandchildren and cherished every moment spent with them. She loved following them all over the country to attend their sporting events, activities and pageants.
Sharon was a very strong willed person with strong opinions which she loved to share.
She will be missed by her husband, Dick Thompson; son, Jamie (Heidi) Thompson, both of Marion; stepdaughter, Lisa (Donald) Moser of Powell; seven grandchildren: Molly, Megan, and Michael Thompson, and Cambree, Arlaina, Noah, and Cohen Moser; a sister, Tina (Robert) Brown of Marion; and a nephew, Michael Brown.
Her family will greet friends from 1 – 2:30 p.m. on Friday, June 26th, at the Denzer-Farison-Hottinger & Snyder Funeral Home, 360 E. Center St., Marion. Services honoring her life and celebrating her homegoing will follow at the graveside in Marion Cemetery, with Pastor Tim Miller officiating.
Rather than flowers, her family requests donations be made to the Cornerstone Alliance Church or to the American Diabetes Association, and they may be sent to the care of the funeral home.
Denzer-Farison-Hottinger & Snyder Funeral Home is honored to have been chosen to serve Sharon's family and your condolences may be expressed to them by visiting www.SnyderFuneralHomes.com.