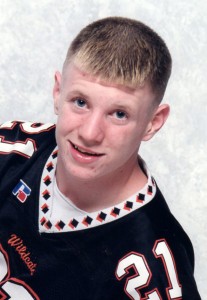 Steven Michael Juzwiak, 32 of Marion, formerly of Richwood, died early Friday morning, June 19, 2015 at the Riverside Methodist Hospital.
He was born June 6, 1983 in Marysville to James and Suzanne (Vallery) Juzwiak and they survive in Richwood.  Also surviving are his children, Evan, Connor and Chloe Juzwiak; and the love of his life, Tonya Hensel, Marion; a brother, Brian (Taylor) Juzwiak, Marysville; sister, Jaime (Robbie) Cowgill, Richwood; grandmother, Judith Vallery, Marysville; uncles, John Juzwiak, Richwood; Michael Vallery, North Lewisburg; Fred (Laura) Vanfossen, Richwood; aunts, Janet Juzwiak, Jacobsburg; Laurie Juzwiak, Delaware; Melodi Wilkins, Woodstock; Kathy Bowens, Richwood; nephew, Skyler Cowgill and nieces, Shelby Cowgill and Aubrey Juzwiak and several cousins whom he loved.
He was predeceased by maternal grandfather, Mike Vallery; paternal grandparents Margaret and Stanley Juzwiak; Pat Middlesworth Juzwiak; uncles Stanley, Joel and Tommy Juzwiak.
He had worked as a cook at Steve's Dakota Grill in Marion and The Old Bag of Nails in Marysville. Steve was a Cleveland Browns and Ohio State Buckeyes fan.  He enjoyed football, wrestling, baseball and spending time with his children and Tonya. A hard worker, he enjoyed cooking, installing heating and air conditioning, playing softball and playing video games.
Funeral Services will be held Tuesday, June 23, 2015 at 11:00 am at the Stofcheck-Ballinger Funeral Home in Richwood, where friends may call Monday from 5-8 pm.  Burial will follow in the Claibourne Cemetery and Pastor James Taylor will officiate.
Memorial gifts may be made to the North Union Little League at P.O. Box 13, Richwood, Ohio 43344 and the GO Bucks Charity of Marion County in the name of his children.
Remembrances and condolences may be expressed at www.stofcheck-ballinger.com