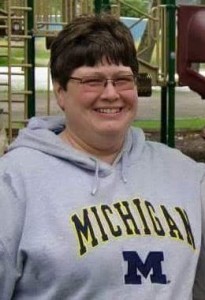 Kimberly Dawn Wygant, 38 of Richwood died unexpectedly Sunday, December 20, 2015 at Memorial Hospital of Union County.  She was born August 15, 1977 in San Diego, California to Bernard and Susan (Mielke) Wygant and they survive in Richwood.
Kim had such a big heart for people and was wanting to pursue missions work. She was always giving of herself. She worked at A+ Child Care in Marysville and loved the babies like they were her own. She loved life and enjoyed helping people, missions, and her dogs.  She was proud of her favorite team, the Michigan Wolverines. She loved her friends and would bend over backward to help people out. She never had children of her own, but there were two children, Angelina and Alaina Vogt, with whom she loved to spend time and take to church.
Besides her parents, she is survived by brothers and sisters, Lowell (Wendy) Hughes, Wapakoneta; Rhonda (Thomas) Jicha, Lima; Darren (Julie) Hughes, Gilroy, California; Brent Wygant, Richwood; Rachel (Ruth Hampton) Wygant, West Mansfield; nephews and nieces, Tiffany (Joe) Pitter, Shawn Hughes, Ren Davis, Kylie and Hailee Hampton, Kaitlyn, Cody, Cassidy, Brenna and Curtis Hughes.
Funeral services will be Monday, December 28, 2015 at 11:00 AM at the Fulton Creek Friends Church with Pastor Dennis Peters officiating.  Burial will follow in Price Cemetery.  Friends may call on Sunday from 2 to 5 PM at the Fulton Creek Friends Church.
Memorial gifts may be made to Fulton Creek Evangelical Friends Church, 10950 Fulton Creek Road, Richwood, OH 43344.
Condolences and remembrances may be expressed at www.stofcheck-ballinger.com