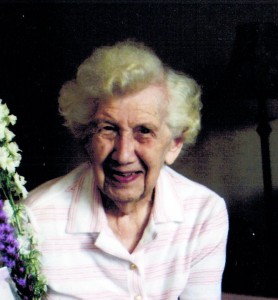 Mary Jeannette Jordan age 98 of Marion, Ohio passed away Wednesday, December 16, 2015 at DeWolfe Place.
She was born July 22, 1917 in Marion County to the late Otis and Clara (Beckel) Rider.
On June 12, 1949 she married Richard Dale Jordan, he preceded her in death on June 23, 2010.
Mary Jeannette was lifetime member of Emanuel Lutheran Church and was the last living member who traveled from the old church to the current church. She was active in the Quilters Guild at the church, was a very loving person, excellent seamstress, found pleasure in being a homemaker, loved flowers and was a wonderful neighbor. She formerly worked at Fulfillment and during WWII she worked at the Scioto Ordinance Plant.
She is survived by her sister, Naomi Saunders of Cincinnati, OH., special friends, Norman and Barb Young of Marion, OH., and several nieces and nephews. She was preceded in death by her two brothers, Raymond and James Rider.
Visitation will be held Saturday, December 19, 2015 from 9 – 10 AM at Emanuel Lutheran Church, 241 S. Prospect St. Marion. Funeral services will follow at 10 AM at the Emanuel Lutheran Church with AIM Kevin Kehn officiating. Burial will follow at Marion Cemetery. The Boyd-Born Funeral Home is honored to be serving the family. On line condolences may be expressed to the family at www.boydbornfuneralhome.com