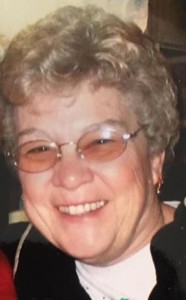 Feisty, lovable, stubborn, graceful, strong, faithful…you could go on and on with words to describe this one of a kind, special woman, Sue M. Lehner, but no words could ever truly do her justice.  Sue went to be with the Lord on Thursday afternoon, July 28, 2016, at her home on the family farm, surrounded by her loving family.  She fought cancer every day for the past six years, just to spend one more day with her family.
On September 7, 1932, Sue was born in Steubenville, Ohio, a daughter of the late Frank A. King and Alice (Wagner) King Schatzinger.  As a family, they moved to Marion, Ohio, where she graduated from Marion Harding High School in the class of 1950.
Shortly following graduation, Sue married the love of her life, Glenn A. Lehner, on November 2, 1951, at the Trinity Baptist Church in Marion.  She accompanied Glenn for two years in California during his service in the US Marines, and they returned home to buy their family farm in 1954.  Together they have shared sixty four wonderful years of marriage, and lovingly raised four children.
For several years, Sue worked at the Standard Oil Company and the Marion Star, until she was needed at home, both to care for her husband and children as a homemaker, but also as a partner to Glenn on the farm.  She was a constant helper on the farm, always stepping in wherever she was needed, whether that meant driving the tractor or feeding the livestock.  There wasn't anything on the farm she wouldn't do for her family.
A devout woman of faith, Sue has been a dedicated member of the Trinity Lutheran Church for most of her life, where she was active with their Women of the Church group.  She also helped administer a Bible Study Fellowship group, who met at various churches throughout Marion for many years.
Sue was a member of the Town and Country Kiwanis, Marion County Fair Board Women, and she always helped with the Richland Township election board and polls.
An accomplished seamstress, Sue loved to make outfits for all occasions for her family, whether it was dresses for her daughters for Easter, matching outfits for her and Glenn when they square danced with the Buttons and Bows, or matching sweaters for Jason and Glenn, which Jason and Sam later wore.
Sharing a love for traveling, Sue and Glenn loved their yearly fishing excursions and their bi-annual trip to California by car, train or airplane.  They also enjoyed several cruises together, with their favorite being a cruise to Alaska.
While Sue was particular about everything, she was especially particular about her yard.  She took such pride in caring for her yard and landscaping, and insisted on being the one to mow even when the pain in her body was nearly unbearable.
Most important of all to Sue was her family.  Sue cherished every moment spent with her husband, children, grandchildren and great-grandchildren.  She showered them with love unconditionally, was their biggest fan and supporter, and will forever be their special "Grandma-Great".
Sue had a way about her.  She could be so feisty and stubborn, and at the same time she could also be precious and charming.  She carried herself with grace, no matter what life threw at her.  She gave the best hugs, and she had a smile that always warmed your heart.  She was the matriarch of the family, who left a lasting legacy that will never be forgotten.
Left to cherish her memory are her four children: Terrie (Jeff Monahan) Shroyer, Jill Neidhart, Lisa (John) Thome, and Jason (Candy) Lehner; fourteen grandchildren: Jennifer (Donny) Shroyer Chapman, Rebecca (Brandon) Shroyer McClelland, Heather (fiancé Eddie Lindsay) Neidhart, John E. Neidhart II, Kristin (Donald) Thome Mattran, Brittany (Beau) Thome Hopkins, Aaron Thome, Lauren (Andy) Thome Scholes, Marissa (Alberto) Thome Guzman, Trenton Thome, Carly Thome, Samuel Lehner, Allison Lehner and Rachel Lehner; thirteen great-grandchildren: Hayden, Griffin, Avery and Harper McClelland, Brady, Savannah and Kamry Chapman, Ava Grace Neidhart, Blakely and Chandler Hopkins, Jaydon Mattran, and Camden and Beckett Scholes; former son-in-laws: Donald Shroyer and John Neidhart; a brother, John Schatziner; a sister, Diane Kay Schatzinger Huffman; and numerous nieces and nephews.
Including her parents, Sue was preceded in death by her grandson, Adam Neidhart; step-father, Fred Schatzinger; and sister, Carolyn (Gerald) King Regan.
Her family will greet friends from 4 – 8 p.m. on Tuesday, August 2, at their home…the Lehner farm, 3414 Whetstone River Rd. S., Marion, where everyone is welcome and encouraged to dress casually.  Services honoring her life will be held at 10 a.m. on Wednesday at the Trinity Lutheran Church (address below), with Pastor Ed Wahl officiating.  Burial will follow in Waldo Cemetery.
Memorial contributions may be made to Trinity Lutheran Church, 4535 Smeltzer Rd., Marion, OH 43302.
Denzer-Farison-Hottinger & Snyder Funeral Home is honored to have been chosen to serve Sue's family and your fond memories and condolences may be expressed to them by visiting www.SnyderFuneralHomes.com.