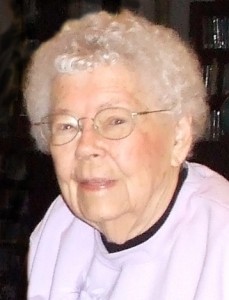 Elizabeth M. "Betty" Black, age 98, of Marion, went to be with the Lord and started again waltzing with her husband, Harold, on Tuesday, November 22, 2016, at the Kingston Residence surrounded by her loving family.
On March 18, 1918, Betty was born in Youngstown, Ohio, the oldest of three daughters of the late Percy and Elmo (Gill) Lewis.  She graduated from South High School in the class of 1936, and then attended Youngstown State College Business School.
While attending college, Betty was set up on a blind date with a young man with a "sharp new Oldsmobile", Harold R. Black.  After wowing Harold, he convinced her to be his bride, and the two were married on September 14, 1941.  They loved dancing with one another, and were avid square and ballroom dancers.  Betty and Harold took advantage of every opportunity to travel and see the world. In 1959 they bought their first of three travel trailers. They camped in all 48 states, Canada and Mexico. They also visited numerous countries, including China, England, Switzerland, and Germany.  They enjoyed being snowbirds, spending twenty three winters in Mission, Texas.
Together they shared sixty eight blissful years of marriage.  He preceded her in death on January 12, 2010.
Over the years she also held a variety of paid and volunteer jobs. At Epworth U.M. church, in Youngstown, she was a Sunday school teacher.  After her marriage to Harold, she joined Pleasant Grove Presbyterian church where she was a Sunday school teacher and a Deacon. With the move to Marion in 1972, Betty enjoyed being active member of the Circle of Martha. During WWII she worked in the machine shop office for Republic Steel, and later in the business office for the Youngstown Vindicator.  In Marion she worked 8 years for Ralph Drake, at the R & D Company on Columbia St.
She also enjoyed many hobbies and crafts. She played both the piano & cello. She was an excellent seamstress, where she enjoyed making clothes for every member of the family. Upon retirement she learned the art of making quilts. She also did extensive genealogy research on the family where she gathered information on over 3900 relatives dating back to the 1600's.
Left to cherish her memory are her two children: H. Robert (Denise) Black Jr. of West Chester, PA, and Barbara Arms of Marion; four grandchildren: David (Kate) Black of West Grove, PA, Scott (Rhiannon) Black of West Chester, PA, Leslie Arms of El Paso, TX, and Brad Arms of Hilliard, OH; six great-grandchildren: Lydia Black,  Maggie Black, James Black, Izabella Vinson, Delilah Vinson, and Alayna Black; a sister, Kathryn McKee; and numerous nieces and nephews.
Including her husband and parents, Betty was preceded in death by her sister, Jayne Walker.
Her family will greet friends from Noon – 2 p.m. on Saturday, December 3, 2016, at the First Presbyterian Church (address below).  Services celebrating her life will follow there at 2 p.m., with Pastor Rob Howard officiating.  Inurnment will take place at a later date in Marion Cemetery.
In-lieu of flowers, memorial contributions may be made to the First Presbyterian Church Women's Association, 143 S. Prospect St., Marion, OH 43302.
Snyder Funeral Homes of Marion are honored to have been chosen to serve Betty's family and your favorite memories and condolences may be expressed to them by visiting www.SnyderFuneralHomes.com.