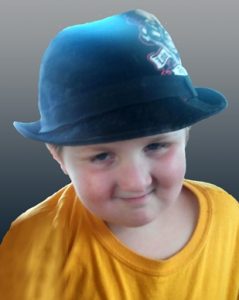 Korbyn Michael Alexander Mathias, became a "real life hero", on Wednesday, February 22, 2017, when his all too brief life went to save several others after he passed unexpectedly from a brief battle with the flu.  Now, he's an angel who will live on the hearts of everyone who knew him.  He was 9 years young and from Marion.
On December 7, 2007, a miracle was born into the family of Elizabeth (Shipman) and Curtis Mathias, as they were told they would never be able to have children together.  Korbyn and his beautiful blue eyes were a blessing to his parents and family every day of his short life.
Korbyn was a fun loving, playful third grader, who thought more about the needs of others than his own.  He was such a kind young man, he would give his grandmother his only two dollars to help her.  He would buy three presents for his sister, rather than buy himself anything.  Korbyn had such a warm loving heart.
Korbyn especially loved monster trucks and watching Monster Jam.  After which, he would roll up the rugs in the house to use them as ramps to destroy whatever was in it's way, which often would be his little sisters dolls.  He also loved his hot wheel collection, displaying them on the rail across the entire living room.  Korbyn also loved watching other kids playing with extravagant toys on YouTube.
During the summer, Korbyn loved bonfires with his family and swimming.
Korbyn was a chef in the making.  He loved to help Mom cook, always there by her side assisting any way he could.  He also loved making sandwiches for his little sister and coffee for his parents.
Such a special young man, Korbyn had a way of always making you smile.  He was friends with everyone, and loved you in his own sweet caring way.  He was a smart, brave, handsome boy, who was so loved.
Left to cherish Korbyn's memory are his parents: Elizabeth and Curtis Mathias; two sisters: Mary Sabins and Sophie Mathias; grandparents: Adreena Shipman, Deborah Lama, Rodney Guess, Ray Starkey, Mary Ann and Lloyd Handley, and Janet and Ron Williams; and numerous aunts, uncles, cousins and friends.
Korbyn was preceded in death by his grandparents: Terry Shipman, and Erma and Franklin Taylor.
His family will greet friends from 3 – 7 p.m. on Monday, February 27, at the Family Life Church, 2209 Marion-Waldo Rd, Marion.  Services honoring his life will also be held there at 11 a.m. on Tuesday, with Rev. Jason Kwast officiating.
Memorial contributions may be made to his family in care of the funeral home.  All donations made will be returned to his family to help them through their tragic loss.
Snyder Funeral Homes of Marion are honored to have been chosen to serve Korbyn's family and your condolences may be expressed to them via www.SnyderFuneralHomes.com.