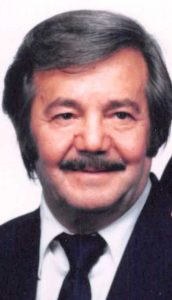 Nicholas V. "Nick" Maniaci, age 85, of Marion, died peacefully Wednesday, May 17, 2017, at the Presidential Center in the loving arms of his family.
Nick was born April 28, 1932, one of four children of Natale and Domenica Maniaci.  He was raised in St. Mary Church, and graduated from St. Mary's High School.
Nick served his country as a member of the U.S. Navy, a veteran of the Korean War.
Following his honorable discharge from the Navy, Nick returned home to Marion, where met and married his wife, Laura Peat, on December 2, 1961.  Together they started a family and later started Nick's Pizza, where he personally served his customers for over forty years.
Very social, Nick loved playing cards, especially pinochle, with the who's who in Marion.  He also enjoyed horse racing throughout most of his life.
Nick and his warm, gentle smile will be missed by his loving companion of over twenty five years, Bessie Henderson; daughters: Patty (Mike) Badertsher, and Diana (Rocky) Fox; 18 grandchildren and numerous great-grandchildren; a sister, Nancy Murphy; brother-in-law, Bill Byrd; sister-in-law, Martha Maniaci; and numerous nieces and nephews.
Nick was preceded in death by his wife, Laura Maniaci on Feb. 8, 1991; two siblings: Jenny Byrd and Joseph Maniaci; and a brother-in-law, Ed Murphy.
Inurnment services with military honors provided by the Marion County United Veterans Council will be observed at his graveside in St. Mary Cemetery on Monday, May 22, at 11 a.m, with Father Ryan Schmit officiating.  A time of food and fellowship celebrating Nick's life will follow at Timothy Lutheran Church (SR 95) from 11:30 a.m. – 2 p.m.
Memorial contributions may be made to the American Cancer Society or the Alzheimer's Association.
Arrangements have been entrusted to Snyder Funeral Homes of Marion and condolences may be expressed to his family via www.SnyderFuneralHomes.com.