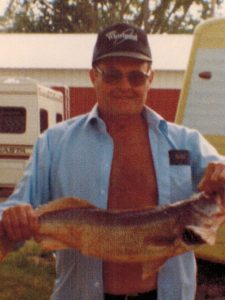 Billy "Howard" Biederman, age 81, of Marion, Ohio, passed away on Wednesday, June 7, 2017 at his home.
On April 16, 1936, he was born to the late Robert and Jessie (Williams) Biederman, and on June 24, 1959, he married his wife Shirley A. (Poe) Biederman, who preceded him in death on March 9, 2013.
Howard retired from Whirlpool after 26 years working assembly, and he served in the Korean War. He survived a battle with colon cancer, and he was an outdoorsman and an avid hunter and fisherman. He spent a lot of his time at Lake Erie. He was known as a jack of all trades, and he was a member of American Legion Post 584 and VFW Post 7201. Kindhearted to a fault, he never knew a stranger, and he would do anything for you.
He is survived by his sons Jeff and Joe Biederman and Mike (Karla) Biederman of Marion; his son-in-law Floyd Corbin, Sr., of Marion; his sisters Glenna Minger of Kenton, Ohio, Vandale Gault of Forest, Ohio, and Judy (Paul) Scott of Kenton, Ohio; his grandchildren Floyd Corbin, Jr., Joey (Krista) Biederman II, Michelle Biederman, and Scott (Sabrina) Corbin; and his great-grandchildren Drew Biederman, Mackenzie Corbin, Kameron Biederman, Miley Corbin, Joeron Biederman, and Aubrey Corbin.
He was preceded in death by his wife Shirley; his daughter Debbie Corbin; his parents Robert and Jessie; his brothers Harry and Lewis Biederman; and his sisters Ellouise Park, Roberta Fiori, and Barbara Curl.
Calling hours will be held on Friday, June 16, 2017 from 10 AM to 12 PM at the Boyd-Born Funeral Home. Services will take place at 12 PM. Burial will follow at Grand Prairie Cemetery.
Memorial contributions may be made to the family in care of the funeral home to aid in offsetting funeral expenses. Condolences may be expressed to the family online at www.boydbornfuneralhome.com.