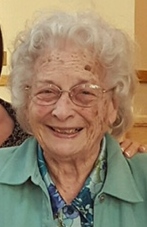 Mary Ellen Carr 92 of Richwood, died peacefully early Wednesday morning June 28, 2017 at the Kobacker House in Columbus.
She was born December 24, 1924 in Ostrander to the late Alex and Lucille (Godfrey) Sours, she was also predeceased by her husband William E. Carr, they were married April 27, 1946 in Marion and he died January 16, 1993, also one son Fred Carr and three grandchildren: James William Carr, Jason Edward Carr and Kasarah Elizabeth Darst-Carr.
Mary was a homemaker, who enjoyed researching genealogy, she was very involved in both the Union and Marion County Genealogy Societies. She loved being outdoors, whether it was working in her flower or vegetable gardens, watching birds or taking care of her cats.
Mary was a member of the former Zion United Church of Christ in Prospect and when it closed she attended the Prospect United Methodist Church. She was known to transport young and old to church when she was able.
Mary was one of those people that never knew a stranger, on her travels she would always know someone and if she didn't, by the end of the trip she had made new friends.
She enjoyed taking pictures and had been a columnist for the Richwood Gazette, covering the Prospect News.
Surviving are her children: Leroy (Jackie) Carr of Baltimore, Gary (Heidi) Carr of Prospect and Judy Carr of Richwood,
grandchildren: Allison Carr, Derek (Jennifer) Miller, Andrew (Audrey) Miller, Kellie Jackson, Ryan (Samantha) Carr, Caitlin (Will) Gracely, Nicci (Derek) Sprouse-Grosso and Carrie (Tony) Robbins.
Great grandchildren: Jaden, Kaeda, Hudson and Cambria Miller, Tayden Jackson, Tristan, Nolan and Gavyn Carr, Liam and Mila Gracely, Hannah Sprouse and Connor and Kale Robbins
Sisters: Cora (Don) Pfister of Richwood, Edna Mae (Bob) Wilcox of Richwood, Ruth Faust of Cardington and Helen Dunn of Marion
Funeral services will be held Saturday July 1, 2017 at 11:00 am at the Prospect United Methodist Church, Pastor Carolyn Christman will officiate, burial will follow in the Prospect Cemetery, friends may call Friday from 4-7 pm at the Stofcheck-Ballinger Funeral Home in Richwood
Memorial gifts may be made to the Kobacker House at 800 McConnell Dr., Columbus, Ohio 43214 and or the Prospect United Methodist Church at 203 North Elm Street Prospect, OH 43342
Condolences and remembrances may be expressed at www.stofcheck-ballinger.com