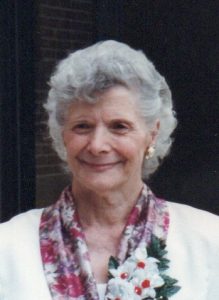 Wilma Jean Wright 89 of LaRue, ended her life's journey on August 2, 2017 at her home surrounded by her loving and devoted family.
She was born December 5, 1927 in Columbus to the late William and Wilma Reiter, she was also predeceased by her husband Paul E. Wright, they were married November 4, 1946 and he died November 28, 1988, also preceding is her son Roger A. Wright, brother William Reiter Jr., son -in -law John Everett, and daughter- in -law Pamela (Harrison) Wright
Wilma Jean was a homemaker and loving mother who was always available to her family and devoted wife to her husband. She was an excellent cook. She enjoyed puzzles, reading, sending cards and notes to family, phone calls from the grandkids and watching polka shows on T.V. She was a member of the LaRue United Methodist Church.
She will be greatly missed by all that loved her.
Surviving are her children: Paula J. (Ron McBeth) Everett of Marion, Carolyn Sue Niesman of Crested Butte, Co., Larry J. (Marilyn) Wright of New Bloomington, David L. (Vicky) Wright of LaRue, Philip N. (Paula) Wright of Marion and Charlotte A (Dan) Busch of Waldo
Daughter-in-law, Jane Wright of New Bloomington
Eight grandchildren, numerous great and great great grandchildren and nieces and nephews.
Private family services will be held Saturday August 5, 2017 at the Stofcheck-Ballinger Funeral Home in LaRue, Pastor Josh Freshour will officiate and burial will follow in the LaRue Cemetery
Memorial gifts may be made to the LaRue United Methodist church at P. O. Box 327
LaRue, OH 43332 and or the Central Ohio Diabetes Assn. at 1100 Dennison Avenue
Columbus, OH 43201
Condolences and remembrances may be expressed at www.stofcheck-ballinger.com.