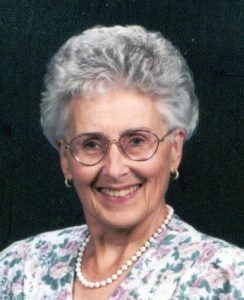 Barbara E. England, age 90, of Delaware and formerly of Marion, was welcomed into Heaven on Saturday afternoon, December 2, 2017, at Grady Memorial Hospital following an extended illness.
On August 29, 1927, Barbara was born in Marion, Ohio, one of two children of the late Stanley and Helen (Young) Wormell. She graduated from Marion Harding High School in the class of 1945.
While Barbara briefly dated a young gentleman from school, Robert E. "Bob" England, it wasn't until he was home for Christmas while on leave from the U.S. Navy during World War II when they knew they were meant to be. Then, as soon as he returned home from the war, they got married on December 21, 1946. They cherished every minute of their marriage together, and in Bob's words "they had a love affair for seventy years." They were always by one another's side.
Wanting to help in the war efforts, Barbara joined the Cadet Nurse Corps in Chicago, Illinois, where she trained until the war ended and quit to marry Bob.
Barbara and Bob quickly started a family, and she remained home to care for her children. After raising her children, she studied to earn her license as a licensed practical nurse in 1970. She then worked for nearly twenty years at Marion General Hospital on the first floor medical department, from where she retired in 1990. At one point she took a break from the hospital to work at Dr. William Whitehead's family practice for several years, where she helped him start the Eye to Eye Support Group.
At the age of twelve, Barbara joined the Trinity Baptist Church in Marion, where she was very active, helping in the background wherever she could, and serving in their Grace Circle and Forward Sunday School class. For the past ten years, she and Bob have attended Central Christian Church. In their later years, they were also active members of the Marion Senior Center.
Having a green thumb, Barbara's flower and herb garden somehow grew larger and larger every year. She always kept her drying racks full, and she would use her dried flowers to make all sorts of things, some of which being: flower arrangements, pictures, potpourri, wreaths and even stationary. She also was an avid reader, enjoyed crocheting, and loved the companionship of their many dogs.
Bob and Barbara enjoyed traveling across much of the eastern United States to tour many historical sites, with Washington D.C. being one of the favorite destinations. They also loved attending the American Baptist Assembly Grounds in Green Lake, Wisconsin, as often as they could to make their annual conferences.
Barbara lived a life of loyal dedication to her family. She also cared deeply for others, quietly serving in her own behind the scenes way.
Left to cherish her memory are her beloved husband, Robert England; two children: Michael (Judy) England and Laura England, all of Delaware; two grandchildren: Jennifer (Nate) Elfner and James Robert "Bob" England; five great-grandchildren: Drew and Rory Elfner, Kayla Hong, and Aiden, Noah and Charlotte England; and several nieces and nephews.
Including her parents, Barbara was preceded in death by her great-granddaughter, Greta Elfner; and a brother, Kenneth Wormell.
Her family will greet friends from 4-7 p.m. on Wednesday, December 6, 2017, at the Snyder Funeral Homes, DENZER Chapel, 360 E. Center St., Marion. Services honoring her life will also be held there on Thursday at 11 a.m., with Pastor Scott Ferguson officiating. Burial will follow in Grand Prairie Cemetery.
Memorial contributions may be made to the Marion Area Humane Society, 2264 Richland Rd., Marion, OH 43302, or to the Willow Brook Christian Village, 100 Willow Brook Way South, Delaware, OH 43015.
Snyder Funeral Homes of Marion are honored to have been chosen to serve Barbara's family and your favorite memories and condolences may be shared with them via www.SnyderFuneralHomes.com.
Similar Posts: