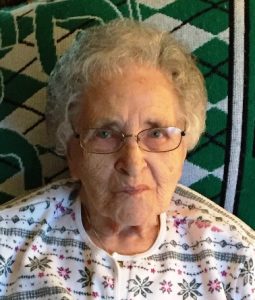 Mary Rose Rubeck, age 93, of Marion, went to be with the Lord on Tuesday afternoon, December 12, 2017, at the Kingston Residence of Marion.
On September 8, 1924, Mary Rose was born in Newark, Ohio, the third of eight children of the late Frederick W. and Mary Theresa (Ponser). She graduated from St. Francis de Sales High School in Newark.
Shortly after high school, Mary Rose went on a double date with her older sister Josephine and the Rubeck brothers, Albert and Pete. She found a great partner in Albert Rubeck, whom she married on May 14, 1947. Together they shared fifty seven wonderful years of marriage, and lovingly raised five children: Mary Helen, Frederick, Irene, Beth, and Joan. He preceded her in death on September 16, 2004.
Mary Rose dedicated her life to her family, caring for her husband and children as a homemaker until her youngest, Joan, went off to college. She also was a sitter and helped raise Brad Ebersole, who became part of their family and is like a little brother to all of her children. She then worked in the dietary department at Marion General Hospital until she retired in 1987.
Very faithful, Mary Rose was an active member of the St. Mary Catholic Church in Marion. For the church, she volunteered in the kitchen and she helped launder their altar cloths. She also enjoyed playing cards with a card club from the church, and was a member of the Daughters of Isabella (DOI).
A passion that Al and Mary shared was cooking. Their family can recall so many great dishes that came from their kitchen, some of their favorites from her were her apple pie and her famous pickle relish. Much of the food they prepared, they also grew in their own garden. Al and Mary also enjoyed vacationing in Boca Raton, Florida together.
Being a strong woman from her time, Mary Rose was an exceptional role model for her family, instilling the importance of love and faith in each of them. She cherished every moment spent with her grandchildren, many of whom endearingly referred to her as "Granny". She also loved reading and enjoyed cheering on her beloved Notre Dame Fighting Irish and Dallas Cowboys.
Left to cherish her memory are her four children: Mary Helen (Don) Dowling, Irene (Jeff) Bookwalter, Elizabeth (Rick) McCrery, and Joan (Jerry) Yanosko; a daughter-in-law, Chris Rubeck; twelve grandchildren and twelve great-grandchildren; two sisters: Ursula Evans and Dorothy Tanner; a sister-in-law, Maxine Gebhart; and numerous nieces and nephews.
In addition to her husband and parents, Mary Rose was preceded in death by her son, Frederick Rubeck; a son-in-law, Timm Kanable; and five siblings: Charles Gebhart, Paul Gebhart, Josephine Rubeck, Florence Gebhart, and Theresa Cost.
Her family will greet friends from 4 – 7 p.m. on Friday, December 15, 2017, at the Snyder Funeral Homes, GUNDER/HALL Chapel, 347 W. Center St., Marion. A Mass of Christian Burial celebrating her life will be held on Saturday at 10 a.m. at St. Mary Church (address below), with Father Ryan Schmit officiating. Her family will again greet friends for an hour prior to her services at the church. Burial will follow in St. Mary's Cemetery.
Memorial contributions may be made to St. Mary Church, 251 N. Main St., Marion, OH 43302, or to Capital City Hospice, 1650 Watermark Dr, Columbus, OH 43215.
On behalf of her family they would like to extend a heartfelt "thank you" to everyone at the Kingston Residence of Marion and Capital City Hospice for their tender care of Mary Rose.
Snyder Funeral Homes of Marion are honored to have been chosen to serve Mary Rose's family and your favorite memories and condolences may be shared with them via www.SnyderFuneralHomes.com.
Similar Posts: