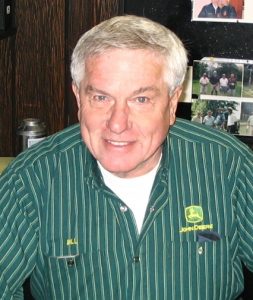 William "Bill" L. Parrott, 80, of Magnetic Springs, died unexpectedly Saturday, December 16, 2017 at Memorial Hospital of Union County.
He was born on April 22, 1937, in Delaware to the late Donald D. and Dorothy G. Ballard Parrott.
He was a 1955 graduate of Leesburg- Magnetic High School. He attended OSU for two years before being called back to the Parrott Farm. While at OSU he was a member of the Buckeye's freshman basketball team. At the age of 30, he began his tenure at Parrott Implement Company. He farmed throughout his time while working at Parrott Implement Company, which was his passion, up until the day of his untimely death.
He was a lifetime member of the Magnetic Springs United Methodist Church and served as a Director for the Richwood Bank from 1980 – 2011. His past memberships included: Richwood Lion's Club, Ohio Delaware Cattlemen Association, NUAC, Young Farmers of Ohio.
He enjoyed hunting, whether it was mule deer in Wyoming or pheasants on Thanksgiving morning at Lone Oak Farm. He particularly enjoyed watching his grandchildren play sports or hunting with the grandsons. He was adamant about giving back to his community and instilled that attitude in his children. He enjoyed golfing with his friends and played in numerous outings for worthy causes over the years. He was a member of the OSU Women's Basketball Rebound Club. He was a season ticket holder for the OSU Women's basketball team for over 25 years and enjoyed watching them play. He was a wise mentor to many and provided steadfast guidance. He enjoyed telling stories about his past experiences. Many have fond memories about his stories while sitting on the church pews at Parrott Implement. He was a very loving, selfless, fair, giving man, always willing to help in a time of need.
He is survived by his wife of 61 years, Sarah Jane (Sally) Sanders Parrott. Their children: Mary Jean Parrott (Nevin) Smith, Rita Ann Parrott (Jim) Monroe, the late Donald "Donnie" Gwynn (Connie) Parrott, and Anne Marie Parrott (Damon) Crabtree. Eleven grandchildren, Kelsey (Blaine) Wilson, Grant and Josh Smith, Tai (Jason) Wills, Sarah (Chad) Whitson, Hannah (Eric) Pedersen, Justin Monroe, Billy, Sydney and Sawyer Parrott, and Drew Crabtree; seven great-grandchildren; a sister, Kathryn Kay Parrott (John) Bishop. He was proceeded in death by his son, one grandchild, Brittany Crabtree, and brother, Dick Parrott.
Funeral services will be Thursday, December 28, 2017 at 11:00 AM in the Richwood First United Methodist Church with Pastor Joe Rhea officiating. Burial will follow in Claibourne Cemetery. Friends may call on Wednesday, December 27, 2017 from 2 to 8 PM at the North Union High School 401 North Franklin St. Richwood, Ohio 43344.
Arrangements are being handled by Stofcheck-Ballinger Funeral Home, Richwood.
Memorial gifts may be made to NUAC, C/O Jean Smith, 396 E. Blagrove St., Richwood, OH 43344; Magnetic Springs United Methodist Church, 113 Olive Street, Magnetic Springs, OH 43036; or the Alzheimer's Association, 1379 Dublin Road, Columbus, OH 43215.
Condolences and remembrances may be expressed at www.stofcheck-ballinger.com