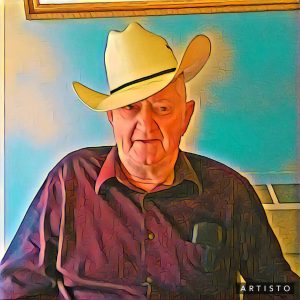 Burley Lowe from the DeWolfe House in Marion died on Monday, January 15, 2018. He was born on March 10, 1927 in Pike County, Kentucky, the only son of Harvey and Maudie Lowe. He served 18 months in the US Army.
On September 23, 1950 in Pikeville, Kentucky, he married Ruth A. Bevins, and together they celebrated 55 years of marriage until Ruth's death in 2005.
Burley worked in the coal mines and drove a truck until he followed his two sisters' families from Kentucky to Marion. He retired from Armco.
If people didn't recognize him by his name, people always recognized him by the Western Cowboy hat that he always wore. Burley never met a stranger, and listening to bluegrass gospel music was his favorite pastime.
Burley will be missed by his five children: Doug (Vickie) Lowe of Delaware, Annette Staley of Mt. Gilead, Carl (Julie) of Marion, Cleve of North Carolina, and Dan of Mississippi. Also missing him are his 10 grandsons, and no one could have loved or cherished their grandkids more: Erin, Adam, Cam, Clint, Derrick, Hagan and Nathan Lowe, Adam Ellwood, and Gary and Brian Staley. A grandson, Caleb, preceded him in death. Burley was also blessed with 6 great-granddaughters: Paisley, Parker, Makia, Neala, Keira, and Ember, and 4 great-grandsons: Dalton, Sutton, Jace, and Tillman Burley. Burley's grandchildren will have the honor of being pallbearers.
Two sisters survive, Thelma Aiken of Marion and Janive (Ralph) Underwood of Danville, Illinois. Five sisters preceded him in death: Elva Gilliam of Marion, Nelvia Hunt of Waverly, and 3 infant sisters: twins, Nona Mae and Linda Ellen, and Emalea.
Also left to cherish his memory are his beloved girlfriend and best friend, Wanda Allen of Marion, and numerous nieces and nephews.
Services will be held at the Boyd-Born Funeral Home by Rev. Grover Caudill on Saturday, January 20, 2018 at 10 AM with calling hours on Friday, January 19, 2018 from 4 PM to 7 PM. Burial will be held at the Grand Prairie Cemetery.
Memorial contributions, if you wish, may be made to the Ohio Health Hospice. Condolences may be expressed to the family online at www.boydbornfuneralhome.com.