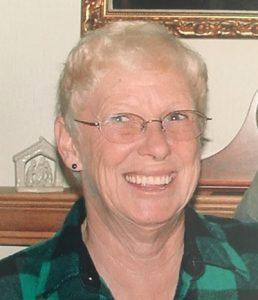 Ivena M. (Knox) McQueen, age 73, of Caledonia and formerly of Mount Vernon, Ohio, died Wednesday, January 10, 2018, at the Presidential Center surrounded by her loving family.
On July 28, 1944, Ivena was born in Mount Vernon, Ohio, the daughter of the late Janie (Hall) and James Knox Sr. She graduated from Mount Vernon High School in the class of 1962.
Shortly following graduation, Ivena married Steven Coykenall, who was from Marion and brought her over to stay. He preceded her in death in 1977.
In addition to being a loving homemaker, Ivena enjoyed working at Coyne Printing in Mount Vernon, where she enjoyed the variety of work, no day was the same.
Ivena remarried James McQueen, with whom she loved traveling. Together they spent a lot of time at their home near Ocala, Florida. He also preceded her in death.
With a love for the outdoors, Ivena loved camping trips with her family. She especially loved going hiking on their camping adventures.
Always looking for a good deal, Ivena enjoyed "popping tags" with her family at flea markets and yard sales.
Very outgoing, Ivena made friends everywhere she went. She also deeply loved her family, and enjoyed sharing her wisdom and life lessons with her grandchildren. Over the years, she also enjoyed the companionship of her many dogs.
She will be missed by her two sons: Richard Coykendall, and James (Lori) Coykendall; seven grandchildren: Ricky, Brittany, Amanda, Amber, Steven, Clayton and Allison; 11 great-grandchildren; and several nieces and nephews.
Including her parents and husbands, Ivena was preceded in death by her daughter-in-law, Diana Coykendall.
Services honoring Ivena's life will be observed privately by her family.
Memorial contributions may be made to Kindred Hospice or the Marion Area Humane Society.
Snyder Funeral Homes are honored to serve Ivena's family and your condolences may be shared with them via www.SnyderFuneralHomes.com.
Similar Posts: